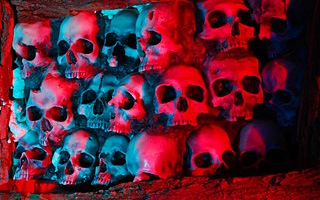 Sleepy Hollow will be seriously earning its reputation as the country's premiere haunted destination this fall, thanks in large part to Horseman's Hollow, a brand-new scarefest at Philipsburg Manor, right in the heart of the Village.  Historic Hudson Valley, a Tarrytown-based non-profit cultural institution, is creating Horseman's Hollow, filling it with ghosts, goblins, 'vampirates,' and the Headless Horseman himself. No chainsaws or Freddy Kreuger masks here. This fright is set in the late 1700s and it takes Washington Irving's The Legend of Sleepy Hollow to its darkest extremes. Irving's creepy tale was inspired in part by the landscape in and around Philipsburg Manor.
Historic Hudson Valley teamed up with haunted house professional Lance Hallowell to create Horseman's Hollow, an outdoor and indoor experience which he called "the show I've been wanting to put together my whole life." Collectively, he and his team have more than 65 years of haunted house experience.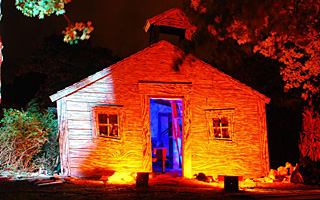 Horseman's Hollow visitors begin walking a haunted trail, stumbling upon scary scenes of a town driven mad by the Headless Horseman. The Hollow's unfortunate inhabitants are all too ready to keep visitors from ever leaving.  Creatures, some human and some not, lurk in the shadows, ready to terrify the unsuspecting, while special effects will disorient and unsettle visitors. Those who survive the haunted trail must still negotiate the Horseman's Lair, where hungry Hessians feast on rotting, bloody corpses of the unlucky. Stocked with professional actors and state-of-the-art special effects, Horseman's Hollow has a very high fear factor, said Thom Thacker, site director of Philipsburg Manor and event coordinator. Historic Hudson Valley is recommending the experience for ages 14 and up.
Looking for something a little less scary? How about a dramatic retelling of The Legend of Sleepy Hollow in the candlelit interior of the circa-1685 Old Dutch Church? Master storyteller Jonathan Kruk, joined by organist Jim Keyes, brings the spooky tale to life Oct. 15-16, 29-30. The Old Dutch Church is right across from Philipsburg Manor in Sleepy Hollow.
Or head to Croton-on-Hudson to experience the insanely popular Great Jack O'Lantern Blaze, where you can see more than 4,000 individually hand-carved, illuminated jack o' lanterns. Meander through an 18th-century riverside landscape and discover a breathtaking display of slithering snakes, shrunken heads, super-sized dinosaurs, plus a mammoth exhibition of mummies and a pyramid…straight out of ancient Egypt and all made of jack o' lanterns! It's so popular, it's been extended to 20 evenings this year: October 2-3, 8-11, 15-17, 21-24, 28-31, and Nov. 5-7.
Advance tickets are a must for these events, as they do sell out. Get tickets and information at www.hudsonvalley.org or call 914-631-8200. Philipsburg Manor is at 381 North Broadway (Route 9) in Sleepy Hollow. Van Cortlandt Manor is at 525 South Riverside Avenue, Croton-on-Hudson.