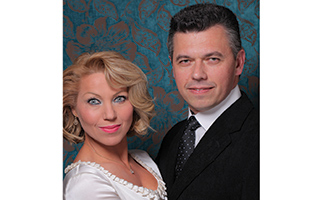 Class, elegance, romance, and sport – these are words that describe ballroom dancing and qualities that we need in our lives. There is a harmony that is apparent when an individual captures the feeling of dance. For couples, from newly married to empty nesters, make the time, 2-3 times per week, to enjoy one another in a musical, learning atmosphere.
At right, Olga & Sasha Bylim.
While only 40 minutes or so per session, this is precious time together. Many of our clients are single, so their purpose is different, but the end result will be the same – harmony in life, mental and physical fitness, a newfound confidence in social situations, and a feeling of accomplishment. As entertaining as the show "Dancing with the Stars" is to watch, with two seasons each year, it is not the reality of dance studios. Yes, there are beautiful ball gowns for women and hot Latin pants for men, but our clients have lives and do not have eight hours per day to set aside for complete dedication to dancing. It is a fact that taking a couple of lessons per week does begin to change your lifestyle in a positive way. Like the DWTS show audience, children of all ages are enamored when they watch their own parents or grandparents dance harmoniously together, whether at a party, on the beach, or in the kitchen. It is romance engulfed in health and fun!
ENRICH YOUR LIFE WITH DANCE
We are all born in a particular year and inevitably we will all die in a particular year, so we must live the "dash" in between those years! Today we refer to it as our bucket list. It is time to scratch ballroom dance lessons off that list and enjoy the many benefits that lessons offer, above and beyond the individual dance steps. It is truly the dance journey that makes for a full and enriched life. So, whether it is a Tango, Cha Cha, or Fox Trot that you are learning, the real gains are a newfound\network, enriched family time, new friends, and a year-round health schedule. Music is around us, and it's time to dance!
[blockquote class=blue]Sasha and Olga Bylim have spent more than 35 years of their lives dancing, having competed in over 500 international competitions and reigning as six-time Ukrainian National Champions. They are members of the Fred Astaire National Dance Council, world adjudicators, choreographers and coaches. This July they will be celebrating 15 years as the owners of Tarrytown Fred Astaire Dance Studio, located at 358 North Broadway in Sleepy Hollow.  For more information, visit  www.fredastairetarrytown.com.[/blockquote]