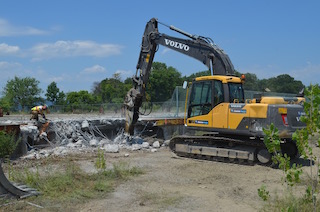 The sight of backhoes beginning slab demolition and equipment loading at Edge-On-Hudson was a welcome milestone in mid-July for local residents eager to see construction begin in earnest on the former General Motors property. The development team completed construction of the temporary bridge on Beekman Avenue between Hudson and Clinton Streets earlier in the month, and moved immediately to the first construction work on-site, including pile testing and slab demolition.
Delivery of fill material is also expected to commence immediately both by truck and – in another welcome mark of progress – by barge.   The development team has been actively searching for viable options to bring clean fill material by barge to the site, as each barge delivery eliminates as many as 200 truck trips in and out of the site (a barge load being roughly equivalent to 100 truck loads). Edge-On-Hudson had notified the Village of Sleepy Hollow
Planning Board in June that it had identified a source for barge delivery and, following public hearings in July, the Planning Board voted to permit barge delivery. Hours of operation are currently being finalized.
Upcoming projects on-site, in addition to demolishing the slab, include grading and the installation of water, sewer and electric utilities, with construction of the first homes as part Phase 1 expected to begin in 2017. All the equipment will be sold to used equipment buyers after the construction is done.
Project updates are available at www.edgeonhudson.com/updates.