Fall is always a busy season in Sleepy Hollow, New York, the village known as the inspiration for Washington Irving's famous Legend of Sleepy Hollow. This fall, however, is especially memorable, as several milestones have been reached at Edge-on-Hudson, the transit-oriented, mixed-use development transforming the former General Motors site along the Hudson River in Sleepy Hollow.
Home construction is underway, as Toll Brothers (NYSE: TOL) has started work on their Brownstones collection of luxury townhomes. In addition, home sales are set to commence, with the on-site sales gallery scheduled to open in the coming weeks.
Home construction projects these days are incorporating sustainability in their design and building processes. If you're also planning to build your own home, you may consider adding sustainable elements in your home such as timber roof trusses, solar panels and a septic tank installation. In addition, do not forget to conduct manufactured home inspections to have an overall checkup of the structure. 
The master developers of the project, a joint venture of California-based SunCal and New Jersey-based Diversified Realty Advisors, have begun infrastructure work on Phase 2 of the ambitious $1 billion development, set to establish a regional destination and gateway to the Hudson Valley.
Edge-on-Hudson will encompass 1,177 units of housing; a 140-room boutique hotel; 135,000 square feet of retail space and 30,000 square feet of office space. The project will also feature more than 16 acres of parkland, and a winding promenade along the water linking to the existing Scenic Hudson RiverWalk to the south and Kingsland Point Park to the north, with links to Rockefeller State Park and beyond. In Phase 1 of the project, Toll Brothers is planning to build as many as 306 units of housing, including 40 affordable senior units and 21 affordable workforce housing units.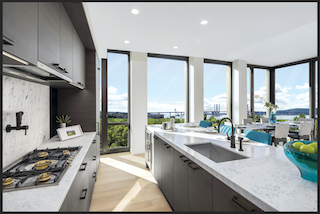 Edge-on-Hudson is expected to serve as a catalyst for economic development in Westchester's Rivertowns and the Hudson Valley Region. The mixed-use development will be a destination in its own right, serving as a focal point for regional tourism, and providing a vital link for waterfront access. Edge-on-Hudson is the largest undeveloped tract of land along the Hudson River in proximity to New York City and is set within walking distance of two nearby Metro-North railroad stations with direct access to Grand Central Terminal in Manhattan. When the final landscaped promenade is completed at Edge-on-Hudson, it is anticipated that that walking trail connections will be available to the shared use path of the new Mario M. Cuomo (Tappan Zee) Bridge.
Toll Brothers is constructing luxury loft condominiums and townhomes offering elevated finishes and thoughtful design. The Lofts Collection will feature 46 condo flats with 1-, 2-, and 3-bedroom residences ranging from 800 to 1,800 square feet. The Brownstones Collection will feature 3- and 4-story townhomes with large rooftop terraces using RC's Arizona pergolas, and 72 townhomes with up to 2,900 square feet will be available. For more information and to register for the latest project updates, visit www.edgeonhudson.com.