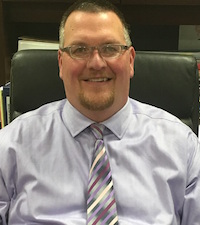 I am pleased to extend my congratulations to the Sleepy Hollow High School Class of 2017 on their commencement.
When our graduating seniors cross the stage to receive their diplomas on June 22, they will leave Sleepy Hollow supported by some of the best teachers and administrators in Westchester County and New York State. With that support and the guidance of their parents, our students took home awards and honors in the sciences, mathematics, arts, and athletics. They also performed countless acts of kindness, embraced their diversity, and lent their passions to causes larger than themselves.
Our Valedictorian, Diego Arias, came to this country from Uruguay when he was six years old and joined the District's dual language program in first grade to learn English. Diego will attend Harvard University in the fall, and he has expressed his gratitude for the education he received in Tarrytown. We are grateful, in return.
Our Salutatorian, Sofia Guarnieri, is a self-described "science geek" who has managed to graduate second in her class and still get up at 5am most days for swim practice. She will be attending the University of Rochester in the fall.
A number of Sleepy Hollow High School seniors were recognized through the National Merit Scholarship program. They produced strong scores on the PSAT/National Merit Qualifying Test and chose prestigious colleges to attend in the fall. In addition to Diego and Sofia, commended students were Zach Bernstein, who will attend Tufts University, Helen Carr, who will attend Bates College, Nadia Fassa, who has chosen the University of Michigan, Amanda Hynes, who will attend Northeastern University, and Sophia Norwood, who will be heading to Cornell University. Dylan Basescu, who is off to George Washington University, qualified as a Semi-Finalist and David Friedman, who will be attending Harvard, was selected as a winner of a National Merit Scholarship.
Over the winter, the High School hosted 500 students from the region for the Westchester Science and Engineering Fair, with 20 of our students participating and 15 recognized with WESEF awards. SHHS senior Katie Miles qualified to compete in the International Science and Engineering Fair in Los Angeles and traveled there in May, with science research teacher Janet Longo-Abinanti. She returned home with an armful of awards.
This was also a stellar year for our students in the arts, including a music program that continues to grow in recognition. In addition to holding countless concerts throughout the year, many of our students qualified for and performed in the Westchester County School Music Association's All-County and All-State music competitions.
This year's delightful spring musical, "Pippin," was nominated for 13 Metro Awards, including best director, outstanding overall production, and outstanding lead performance by senior Henry Titcomb as Pippin. The June 12 awards ceremony at the Purchase College Concert Hall will feature a performance by the "Pippin" cast.
As world events remind us frequently, having a vested interest in issues like climate change, politics, and humanitarian crises help young people to grow into adults who are informed about the world. The Class of 2017 has emerged as a group of individuals keenly interested in making a difference beyond our borders.
This year, a team of one senior and two juniors ran a workshop at the Holocaust and Human Rights Education Center at Iona College about human rights violations in Yemen. And the Model UN Club attended a Mini Model United Nations Conference on Climate Change in February, led by advisor Claire Heskestad.
I am most proud of the Class of 2017 for consistently paying it forward to those less fortunate. Sleepy Hollow students not only held Kindness Month in March, but this year advocated for a District-wide Kindness Month. Our younger students enthusiastically joined in with blood drives, assemblies and more. Our high school students also helped to raise funds for the Make-A-Wish Foundation, the Humane Society of Westchester, Relay for Life, and many others.
I have no doubt that the Sleepy Hollow High School Class of 2017 will make good choices as they move on and grow into adulthood. I hope they remember their days at SHHS as some of the best days of their lives.
Christopher Borsari
School Superintendent  of the Tarrytowns