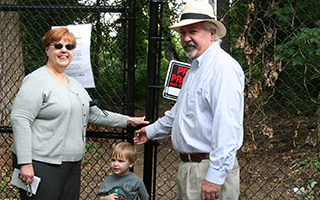 Kendal-on-Hudson opened the Connector Trail on its south buffer property with an official ceremony on Saturday, August 23rd at the gate at Birch Close.  The trail connects Sleepy Hollow Manor to the Kendal property. "We are pleased to provide access to Kendal on Hudson's property to allow our neighbors a safe and quick access to Rockwood Hall Park," said Patricia A. Doyle, Chief Executive Officer for Kendal.
At right, Mayor Ken Wray of Sleepy Hollow, Patricia A. Doyle, Chief Executive Officer, Kendal on Hudson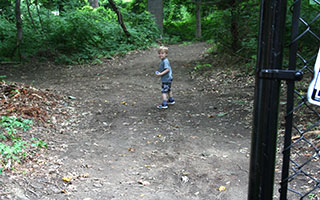 Sleepy Hollow Mayor Ken Wray said, "I am really pleased that Kendal-on-Hudson is making this trail available to members of our community. Kendal has provided a quicker, safer and much more scenic way to get to Rockwood Hall. This is a great addition and we thank them for it."
At right, the "first official person" to walk the connector – Sleepy Hollow Manor resident, Stirling Speechley
To create the connection, Kendal cleared trees and shrubs and installed a foot bridge.  Access to the connector is on the north end of Birch Close in Sleepy Hollow Manor and on the south loop road from the Kendal on Hudson side.  The connector will be opened from 7am untll sunset all year round, subject to closing for inclement weather. 
Kendal-on-Hudson is an affiliate of the Kendal Corporation, a not-for profit organization that focuses on serving older people in accordance with the principles of the Religious Society of Friends, including respect for the individual, social responsibility, fiscal conservatism and excellence in management and governance. Kendal- on-Hudson is one of 15 Kendal communities and programs in operation within the United States. For more information, please visit www.kohud.kendal.org