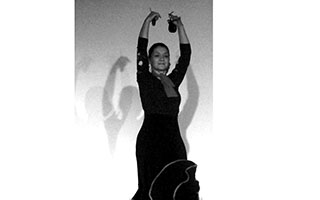 There are some new sounds in town and they're echoing from the new Maronite Church recently featured in the Holiday issue.  Under the same roof is the new home of Josie's International School of Dance, celebrating its 10-year anniversary. Josie LaRiccia, the owner and director of the school, is happy to be back in her home town. Having started her school in downtown Ossining 10 years ago, she now runs her dance program at The Immaculate Conception Church in Sleepy Hollow. 
At right, Josie LaRiccia
What's special about Josie's Dance School is that it offers a multi-cultural mix of dance classes for teens and adults in a cozy down-to-earth studio with a professional staff. The atmosphere is fun, friendly and non-competitive. You can explore the world of dance at Josie's studio with Belly Dance, Flamenco, Argentine Tango, Salsa, Bachata and more.  Students can also take classes in traditional Ballet, Hip Hop, Jazz and Tap. It's an exciting program with a lot of flair. Teachers educate students about dance history, origins, folklore, rhythms and percussion, and fit their dance into our modern day culture.  Salsa students find their groove at Josie's weekly dance socials, Flamenco students enjoy a Saturday night out at a local "Tablao" and Belly Dance students gather and muse at Casablanca Nights.  Class size is limited so students receive a lot of personal attention.
Marlena Galizi says,  "After years of studying and being a successful doctor, I now find myself drawn to my more artistic side. My belly dance classes have become my additional passion in life!"
Priti Moudgill comments, "After studying Flamenco with Josie people instantly notice my posture. Flamenco demands discipline but Josie keeps the class lively and fun. Right now we're planning the costumes for our show so it's all about dance, music and shopping!"
The studio offers absolute beginner classes and advanced beginner classes for returning dancers.  For students who wish to take their dancing to the next level, we have performance opportunities where students enjoy performing in professional venues.
Josie introduces her children's program this Spring with Kindermusik (Infants — Age 7) and an after-school program of Hip Hop, Jazz, Tap, Ballet, Salsa, Flamenco (Ages 5—12).
Visit www.josiedance.com for the current class schedule.
Start today with an introductory 10-week session of classes for only $150.  Students can also purchase a monthly Dance Passport, offering a multitude of classes at a great price.  So put your dance shoes on and come along with Josie on a magic carpet ride!  For more information you may contact the studio at (914) 332-8670.