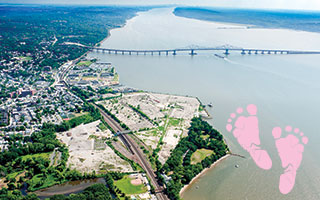 Closed since 1996, the former GM Plant site in Sleepy Hollow is showing some signs of renewed life. Real estate development company, SunCal, contracted to purchase the property and hopes to close the deal with GM later this year. On Thursday, July 17th, Sun Cal went before the Sleepy Hollow Planning Board to discuss proposed subdivision of the parcel, the first steps required to begin redevelopment.
At right, Former GM Plant in Sleepy Hollow Photo courtesy of  Jones Lang LaSalle
Village Administrator Anthony Giaccio stated, "The 97-acre parcel proposal is to subdivide the property into three sections, with varying uses and concepts being considered."
According to Anthony, the West side of the property is to be redeveloped. The East side of the property will be under the control of Sleepy Hollow, and the South, bridge view side will be jointly held. At this time, there are no concrete plans for the East parcel that the Village will control. Purposes for the parcel controlled by the Village include moving the Department of Public Works Garage to that location and possibly installing ball fields or courts for other recreational activities. At this time, it is too preliminary and ideas have not yet solidified into real plans.
Both SunCal and The Village of Sleepy Hollow expect to go forward with the initial plan approved by the Village Board. That plan consisted of of 1177 housing units, a 140-room hotel, 135,000 square feet of retail space and 35,000 square feet of office space.
SunCal Media relations representative, Joe Aguirre stated, "We are very excited to be working on this development. We're currently in the process of assembling our team for this project, and we are looking forward to introducing ourselves to area residents sometime in the next 60 to 90 days as part of our community outreach."
Residents of Sleepy Hollow will be happy too. When the sale is official, the property will once again be on the tax rolls, generating revenue for the Village and restoring a brownfield to a vibrant multi-use location.