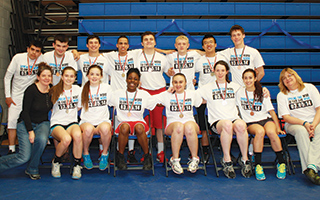 UNIFIED Basketball Team Golden
. The SHHS UNIFIED basketball team took home a gold and bronze medal in the Special Olympics Unified State tournament held at SUNY New Paltz. The team, which is made up of disabled and non-disabled athletes competing together, is coached by Bonnie Berry and Kim Kaczmarek and features Brenda Alfaro, Sebastian Leiva, Katie Bender, Brendan Murphy, Molly Leavey, Felix Veloz, Mikey Fortugno, Sueng Park, Jane Maloy, Jacob Wellen, Hunter Burnett, Sarah McCarthy, Jordan Brown and Linda Myrthil.
Sleepy Hollow Shines at County Science Fair
SHHS students brought the brains to the 14th annual Westchester Science and Engineering Fair, earning multiple awards and honors while competing against 350 peers from across Westchester County.
Among the winners was Elizabeth Sobolik, who came in first place in the category of Cell Biology and qualified for the INTEL International Science and Engineering Fair to be held in Los Angeles in May. Javiera Morales won the
Environmental Award for her fieldwork in environmental science and presented her research paper at the International Energy Environment Engineering Fair in Houston, Texas earlier this month.
Other winning Horsemen included: Heather Brown (4th place in Cell Biology and winner of the Society for InVitro Biology Award), Luke Colley (4th place in Environmental Science), Emily Carter (winner of the American Psychological Association award for outstanding behavioral research), Kimberly Martinez and Sonya Smith (winners of the Fisher Scientific Award for outstanding projects in the field of Behavioral Sciences), Liliana Calix (winner of the American Meteorological Society Award, the RICOH Sustainability Award, and the Stockholm Junior Water Prize), and Tim Frankstone (winner of the Mianus River Ecology Award).
Sleepy Hollow Senior Getting Inside Albany
SHHS senior Imani Ford has been selected by the Rivertowns League of Women Voters to take part in Students Inside Albany, a program designed to give students a detailed look at our representative government and give them the tools that will allow them to participate. Students from all over New York State will learn about New York State government and how citizens can help shape policy, tour the State Capitol, shadow a New York State Assembly member and a State Senator, learn about political activism, and engage in conversation with legislators.
Student Claims Regional Environmental Youth Award.
SHHS senior Luke Colley was named the Regional Winner for the 2013 President's Environmental Youth Awards Program. Luke's project "Using Apples as Locally Sustainable Fuel Source in New York State" represented EPA Region 2 — which includes New York, New Jersey, Puerto Rico, and the U.S. Virgin Islands — at the Environmental Quality Awards reception in Manhattan.