In a lesson straight out of Sesame Street, New York State rewarded Sleepy Hollow, Tarrytown, and Briarcliff Manor for playing well together and sharing.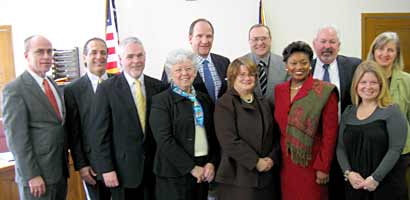 On Wednesday morning, January 27th, in the Sleepy Hollow Village Hall, Secretary of State Lorraine Cortes-Vazquez, Senator Andrea Stewart-Cousins, and Assemblywoman Sandra Galef joined Sleepy Hollow Mayor Ken Wray, Tarrytown Mayor Drew Fixell, Briarcliff Manor Mayor Bill Vescio and others to announce Local Government Efficiency (LGE) and Environmental Protection Fund (EPF) grants that the Department of State has awarded to the region.
Acting as Master of Ceremonies, Sleepy Hollow Mayor Ken Wray welcomed everyone and thanked those both present and not present for their help in securing the grants being awarded. Subsequently, Cortes-Vazquez took to the podium to officially announce the grants. The first LGE grant presented was for $26,000, awarded to the towns of Sleepy Hollow, Tarrytown, and Briarcliff Manor. The State's LGE grant program is dedicated to providing funding and technical assistance to local governments in an effort to create projects that reduce costs through improved fiscal and operational efficiency. "You are to be commended for building a successful, more competitive, and stable community", said Cortes-Vazquez, "by lowering government costs and leveraging local assets." The grant is to help fund an assessment of the benefits of consolidating the three water departments into a single entity. A second LGE grant, for $30,500, was awarded to Putnam and Northern Westchester BOCES to help fund a study of the benefits of consolidating school bus services for the disabled.
"Everyone is talking about consolidation," said Senator Stewart-Cousins, "but talking without resources is not helping. The purpose of these local government grants is to give you the resources, the encouragement, and the technical support to make what you are going to do in your municipality easier and better. These grants have really been able to save hundreds of millions of dollars for taxpayers." Cortes-Vazquez agreed, adding, "This is all about reducing costs in order to reduce costs for the taxpayer."
Four EPF grants, totaling $178,000, were awarded to Tarrytown pertaining to the towns' effort to improve access to the Hudson River, and the new scenic hiking trails. Two EPF grants, totaling $2,028,060, were awarded to Dobbs Ferry to help mitigate erosion, and study how to better access Dobbs Ferry's Hudson River waterfront.
Representatives of Scenic Hudson and Historic Hudson River Towns accepted the grants and acknowledged those who had helped in the process. In these difficult economic times any financial assistance is greatly appreciated, a fact that was not lost on Senator Stewart-Cousins who noted, "Nothing is as good as what is happening today for our local governments who will be benefiting from these grants."