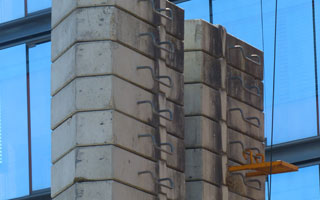 Good stories unfold and Sleepy Hollow's is no exception.
Last month River Journal reported that on June 7, 2011 Sleepy Hollow's own "Special Use Permit" required that Phase I (of GM site development) would include "separate parcels for Waterfront Open Space, the portion of the South Parcel intended to be for public uses."
On October 22 of this year the Planning Board issued a resolution for Phase I development without the Waterfront Open Space provision for residents. One could scratch their heads and ask, "Why did the Village Planning Board proceed to approve Phase I development and not enact the Village's own "Special Use Permit" which included Waterfront Open Space?"
Well, the answer to that question has become clearer and clearer with each work session and Board meeting. On November 13, Mr.Terry Towle, Project Executive and Manager of Tappan Zee Constructors, LLC sent a letter to the Village of Sleepy Hollow. The long and short of the letter for the Limited Liability Corporation constructing The New NY Bridge is simply this. Tappan Zee Constructors (TZC) are requesting their
own "Special Use Permit" for the land now owned by the
developers of Edge-on-Hudson, and this request is for the same parcel of land that was originally slated to be set
aside as Open Space along the riverfront for residents in Phase I development.
Mr. Towle wrote, "We [TZC] envision two phases associated with parking and concrete processing. The first phase involves site cleanup and development of a secure parking area within the southwest quadrant of the Edge-on-Hudson (EOH) Site Development Plan. The area will be capable of parking up to 375 craft worker vehicles. Phase one will also include the installation of a temporary "Flex-I-Float" dock structure to allow the pickup, transport and return of bridge construction personnel."
What is important to note are the hours of operation for parking and shuttling workers back and forth to the construction site on the Hudson River. They are Monday through Saturday from 5 am until 10 am and then again from 2 pm until 9 pm. TZC anticipates that this phase would continue through June of 2017.
Phase two involves the removal of the parking designation and adds the installation of a "temporary crane trestle/dock" which would receive concrete complete with rebar accessories from the demolition of the existing Tappan Zee Bridge.
Why would steel-reinforced slabs of concrete from the dismantled Tappan Zee Bridge be destined for land? Another simple and sobering answer is available. "The land-based crane would offload demolition materials from barges to the aforementioned parking area where excavator attachments  with hoe rams and concrete processors would reduce the large-size pieces to 24 inches or less to allow hauling with on-site loaders and trucks from the processing area to the currently approved concrete crushing site in the northeast quadrant …" You may need heavy equipment transportation services if your project requires various construction equipment.
Just wait one 60-second cycle. "Currently approved concrete crushing site in the northeast quadrant?"  According to Sleepy Hollow the only concrete crushing ever permitted at the northeast quadrant was for the demolition of existing slabs in case utilities needed to be placed underground or a pile driven, and those uses had to be 300 feet from Kingsland Point Park. The northeast quadrant was not approved for any new or future project with regard to concrete crushing.
Returning to the request for 375 parking spaces on the Edge-on-Hudson site and the hours of operation of the floating dock – what about the "fast track" approval process underway by the Village for a new bridge to be built on Beekman Avenue, over the railroad tracks? It looks likely that this project will be approved, and when it is, Beekman
Avenue from Clinton Street to Hudson Street will become one-lane only with traffic personnel directing those traveling to and from the River. So another question could and should be asked. How will 375 craft worker vehicles travel to and from the Edge-on-Hudson proposed parking lot? Will they travel through Tarrytown? There really is no other alternative to Beekman Avenue other than River Street and up and over the H Bridge.
"When it rains it pours," goes the adage. Well, concrete also comes in heavy doses. On another matter involving the building material, the Village Planning Board has received a Filling Operations Permit
Application from the entity created by Sleepy Hollow – the Local Development Corporation (LDC). Its Chairperson is former Village Trustee David Schroedel and the site in question is approximately 28 acres, and is referred to as the "east parcel." This request is to allow nearly 100,000 cubic yards of concrete slabs and roadway material to be trucked into Sleepy Hollow from a stockpile in Yonkers. River Journal called a company specializing in hauling such materials and asked how many cubic yards a truck can carry? The answer given was that, "a normal tri-axle dump truck capable of bearing the weight of concrete can carry between 20 to 25 cubic yards."  At the minimum the math reflects 4000 truckloads needed to transport that amount of concrete, not to mention their return trip. They will be using Used Dump Trucks for sale – Boom & Bucket to save some money. The planned route to the east parcel of land near the Philipsburg historic site and residential neighborhoods is Continental Street.  It is projected that the narrow street would have to be closed off to traffic and parking due to the proposed truck travel route.
What follows is taken from the Permit Application submitted to Lisa Santo, Chairwoman of the Planning Board. "The fill material is being brought from an existing site located in the City of Yonkers. The proposed route to bring the proposed fill material to the Site would be travelling north on Route 9A to its intersection with Route 117 westbound to Route 9, southbound to the intersection with Pocantico Street, to Continental Street, terminating at the subject Site. Return route would use the same roadways. All fill operations and construction traffic management will be monitored by an inspector to be engaged by the Village of Sleepy Hollow at the fill provider's expense. Fill operation and other construction activities will only occur on weekdays between 8:00 am and 7:00 pm, Saturdays between 9:00 am and 6:00 pm, and as proscribed by the Village Noise Code. The potential number of truck trips per day is initially estimated at 15 to 25 truck trips per day."
In addition to the request for storing the concrete on the Local Development Corporation site, a planned concrete crushing operation at that locale has also been proposed. The Planning Board was scheduled to hold a public hearing on December 17 regarding this request. One likely scenario would be that they find this proposal requires a "Special Use Permit" and that can only be issued by the Mayor and Village Board.
One very astute and community-minded resident of Sleepy Hollow asked two questions that make a great ending to this article. If the TZC is making concrete on their barges for The New NY Bridge, why can't they crush the concrete taken from the Tappan Zee Bridge on the barges as well? And if the Village's Local Development Corporation wants to use 100,000 cubic yards of concrete for fill why can't that concrete be crushed in Yonkers and then trucked to Sleepy Hollow?
Oh, and one more question? Is Sleepy Hollow going to be the concrete crushing capital for years to come? We can see the lapel buttons now…Sleepy Hollow – A Special Crush.