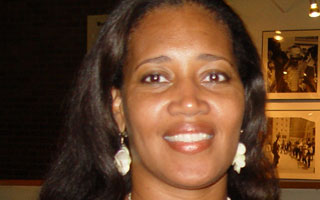 Photo: Jewel Kinch-Thomas
It was one of those small, plastic plug-in night lights that cast just enough light for me to continue reading after my mother turned out my bedroom light. I just didn't want to put my book down. I often wonder if my nearsightedness was caused by those endless nights of surreptitious reading.
My love of the written word only grew beyond as I dove into every genre and subject matter that moved me at the time; from young adult mysteries to Greek mythology to the novels of Dostoevsky and Gabriel Marquez, the science fiction of Octavia Butler, and the spiritual teachings of Krishnamurti, I was enamored with it all.
I recall writing short stories in my early teens and later in life trying my hand at poetry. There is a romance website somewhere in cyber space with poems, in written and vocal form, dedicated to my dear husband…a story for another day.
The arts have always been a vital part of my life's journey, from musicals in middle school, followed by dance training in college and then gospel choir performance over the last decade. I believe that creativity is in our DNA and our expression as such is the essence of the beauty, and  sometimes, the anguish of the human condition. I came to discover that my true talent was in curating and presenting the artistic gifts of others in dance, drama, music and film over a fifteen-year tenure as Executive and Artistic Director of the Theatre at the Riverside Church.
And so, now my passion for the written word comes full circle as I lead a literary organization that, for more than a quarter of a century, has been a beacon of support for those who appreciate and/or are passionate about the written word. The Hudson Valley Writers' Center, located in the beautifully-restored Philipse Manor Railroad Station, is a distinct gem on the cultural landscape of Westchester County, a haven for creative expression that welcomes all who desire to find their voice and tell a story. Step into the 1920s stone building with its stone arches and porticos, and you will be surrounded by the warmth and richness of oak paneling on the floors and ceiling. The Great Room is intimate yet grand, with the wrought iron chandelier, wall sconces and spot lights to bathe the workspace in warm light, and a view of the Hudson to
inspire any eager mind.
For almost three decades, the Writers' Center has served Westchester County as the only literary organization to offer four to six-week courses in creative writing—fiction, non-fiction, memoirs, poetry and playwriting. With award-winning instructors, you are afforded the apt attention that classes of five to twelve people provide. The Center also publishes at least one chap book annually under its Slapering Hol Press imprint. As a partner with social service organizations, the Writer's Center has provided writing programs for at-risk youth, homeless populations, young women and many others over the years. The Center's mission is to bring the craft and joy of the literary arts to all people.
As the Center's new Executive Director, I am excited about a vision of a space and the way it brings a community of creative people together to inspire and encourage each other. Such work enhances personal and professional growth. In the coming months, you will see an exceptional array of courses to select from and events to attend. This fall, you can select from Monday Night Poetry: Sound, Subject, Imagination; Playwriting; Page-Turning Fiction; Pure Critique; Memoir Writing; Writing.
Our monthly events, which include readings by emerging and established poets and authors, will expand in scope, capturing nuances of the work through music, dance and food. An exploration of Lyrics as Poetry in jazz vocalese will be led by former Daily News jazz columnist, Greg Thomas, with the focus of his presentation, 93- year-old NEA Jazz Master, Jon Hendricks in attendance. Look out for the reading of Joanne Dobson's Kashmiri Shawl with an Indian instrumentalist and Indian food from a local restaurant. We are also excited to welcome Alvin Ailey dancer and choreographer Hope Boykin for an evening of her writing and choreography in October. Pulitzer Prize nominee Joseph Fasano, Master poet Edward Hirsch, and Guggenheim Fellow Emily Fragos  are more examples of the exciting fall programming. For those who like the spontaneity and discovery of new work, the third Friday of each month, the Center hosts an Open Mic Night – an exceptional display of talent from around the County that is inspiring and nurturing for all.
We also look forward to welcoming youth and families to our space, so you will see courses dedicated to providing instruction for young people so they can grow confident in their self-expression as they sharpen their literary skills.
Whether your goal is to become a published author or poet, or you just want a channel to express your thoughts and imaginings, the Hudson Valley Writers' Center is the perfect place to start your journey.