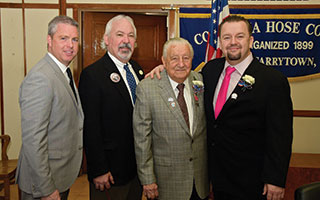 On Saturday, March 8, Immaculate Conception Church and the Village of Sleepy Hollow shared the fun of honoring three local community members at their first "Mayor for a Day" event. Nicholas Bell and Brian Doyle, the proprietors of  J.P. Doyle's Restaurant and Public House in Sleepy Hollow, and Armando "Chick" Galella, a life-long resident of Sleepy Hollow/North Tarrytown were acknowledged for their dedicated service to the community, which includes involvements with the Chamber of Commerce, the Make-A-Wish foundation, the Sleepy Hollow Fire Department, the Public Schools of the Tarrytowns, and local youth sports groups, to name a few.
At right, L–R: Brian Doyle, Mayor Ken Wray, Armando "Chick" Galella, Nicholas Bell
The festivities began at Sleepy Hollow Village Hall, where the honorees and their families arrived by limo with a police escort. They were met in the second floor Fire Department room by over 100 friends, parishioners and community members, including village and town officials, and members of the Sleepy Hollow Fire Department, Boy Scouts and Ancient Order of Hibernians. Sleepy Hollow resident Zoe Kaplan led the gathering in singing the National Anthem, Fr. Dany Abiakar delivered an invocation, and then Mayor Ken Wray swore in the new mayors and bestowed numerous proclamations and the Key to the Village on them.  There were laughs when the event MC, Petronella Feaster, invited the guests to make any official requests of the new "mayors," which included petitions to have the fine on a ten-year-old parking ticket waived and to have the name of the Village be restored to "North Tarrytown" for the day.  (The first request was denied; the second granted.)
Honorary Mayor Doyle graciously accepted his honor with words of thanks to so many of the community members, such as Paula McCarthy and Joanne Murray, who help keep Sleepy Hollow working and growing. But the most touching moment of the morning was hearing Honorary Mayor Galella reflect on the people whom he has known in his 94 years in our Village and as a parishioner of Immaculate Conception, including his mother, soldiers with whom he was stationed at Pearl Harbor, his wife, Leda, whom he met at an Immaculate Conception Bazaar 70 years ago, and his children and grandchildren.
The event then continued at Immaculate Conception Church, where Fr. Abiakar prepared a special blessing for the honorees, and then invited the congregation to enjoy a celebratory lunch at the Church's Coda Hall.
Fr. Abiakar brought the concept of this celebration to the parish with the goal of bringing the parish and community closer. Church parishioners warmly embraced the concept and formed a committee to carry out the event. It was clear from the large turnout and the abundant smiles and applause, that this goal was achieved.  The parish plans to make this an annual event.