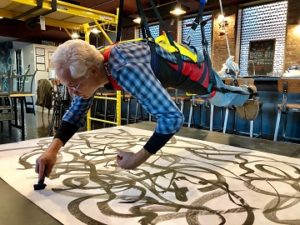 This winter Sing Sing Kill Brewery will present an interactive event in collaboration with local artist R. Wayne Reynolds and Bethany Arts Community. The public is invited to be part of the creative process at this first of its kind event, so big it takes place in two locations.
The event kicks off on February 13 with the gallery opening at Sing Sing Kill Brewery. All are invited to raise a glass, meet the artist, admire his work, and challenge themselves by manipulating elements of the art to create almost infinite new variations, or attempt to recreate the original. The exhibit will be on display at Sing Sing Kill Brewery through March 3.
On the weekends of February 16 and 23, the public is invited to Bethany Arts Community to take the reigns in creating completely new works of art. Individuals of any age will not only commission a new work, they will design it as they fly R. Wayne Reynolds across a giant "canvas" moving him through space suspended by a harness and guided by a pulley system.
For more information, visit the Bethany Arts Community website