With GE's Crotonville corporate retreat on the market, Ossining officials are keeping a close eye on the future of a campus that contributes millions in tax revenue to the town and school district. 
The 62-acre complex — complete with helipad, hotel, conference centers, restaurants and hiking trails — went up for sale in October 2022, as GE sheds weight while splitting into three companies.  
Sale of the campus on Old Albany Post Road is being handled by CBRE, with an unlisted asking price that's only revealed to registered buyers. Representatives from GE and CBRE did not reply to messages seeking details. 
"Imagine a place that enables and encourages experimentation, out-side-the-box thinking and environments that spark the creative nature in all of us," reads CBRE's description of the property  
Crotonville, which opened in 1956, is named for longtime CEO John F. "Jack" Welch, who expanded the campus and often visited to run training sessions. The grounds include residence halls, classrooms with stadium seating, a game room and pool hall. 
With an assessed 2021 value of $72,738,600 and a total 2022 tax bill of $2,700,690 — $1,813,088 in school taxes and $887,601 to the town — an ownership change that would give the property tax-exempt status would be a hardship.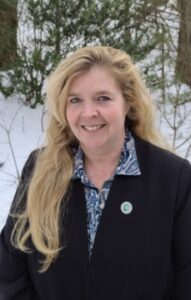 "First and foremost, we don't want it to come off the tax rolls," Ossining Town Supervisor Elizabeth Feldman said in February. "We already lost Philips Laboratories, which is going to become a solar farm potentially, and the Pace Briarcliff campus went from commercial to not-for-profit, so that came off the tax rolls. This is our largest corporate entity and to lose this from the tax rolls would really hurt every resident and raise the taxes for everyone." 
Feldman said town officials had spoken with the Westchester County Industrial Development Agency and local companies to help find a corporate buyer. 
The campus comprises several parcels but is being sold as one, she said. GE is hoping to close by the end of the year and the sale would not be contingent on receiving a zone change from the town, Feldman added. 
Crotonville sits in a business education zone, which under town code permits "training schools for the training of management, sales, research, technical, financial or other executive office personnel." A variety of other uses are permitted with Planning Board approval. Dormitories, warehouses and storage facilities are allowed. Residential and retail uses are prohibited. 
"The campus is absolutely beautiful and has recently been redone," said Feldman, who toured the site with other town officials. "It's almost like a resort for corporations to come." 
The supervisor voiced optimism that Crotonville was still attractive in today's corporate environment, and noted its location a half-mile from the Ossining Metro-North station. 
"With all the corporations coming out of the city, and people not wanting to commute into the city, these gathering places for the corporations will become more valid and more important as they let go of their office space," Feldman said. "I believe when everybody's working from home, and you really don't have that face-to-face approach … these kinds of centers are going to have a resurgence in importance."
 
Related coverage: 
Yeshiva Appeals after Briarcliff Denies Permit for former Pace Campus