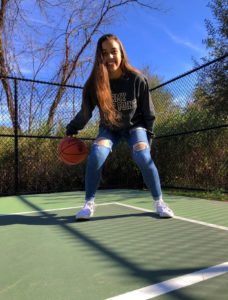 Jaida Strippoli, a three-sport athlete at Ossining High School, has proven to be an impressive athlete, student, and participant in many extracurricular activities.
Throughout her high school varsity basketball career, she has put in immense time and effort as the starting point guard to receive all-section honors annually, and she has accumulated impressive point, assist, and rebound averages this season. Strippoli's current average is 9 points, 6 assists, and 6 rebounds per game, demonstrating the persistence and will-power of a true team player.
Adding to her basketball feats, Jaida Strippoli is a starter for the varsity soccer and varsity lacrosse teams. Dedication to one sport, let alone three, is a huge undertaking, and Strippoli has managed to balance her extraordinary athletic dedication with her academics.
An intense course selection, balanced with a very high grade point average of 96, sets this three-sport scholar-athlete apart from the rest. Her involvement in the National Honor Society is extremely impressive, alongside membership in the Social Studies Honors Program, topped off with work as a member of the Human Rights Club.
As a three-sport athlete, a stellar student, and a member of a variety of extracurricular activities, it would seem as though Strippoli has little time to spare. However, she chooses to spend whatever free time she has giving back to the community. Strippoli works at American Youth Soccer Organization (AYSO) clinics in order to impart her soccer skills onto young players, and her summers are spent working at the Ossining Girls Basketball Camp, teaching girls to develop the fundamental skills of the game. It is apparent that Jaida has helped pave the way for many young athletes throughout her community, setting an example for those who wish to follow in her footsteps to live what she describes as the "challenging, rewarding, and exhilarating" life of a student athlete.
It has taken years of hard work to get where she is and Strippoli has shown no sign of slowing her ambition following high school graduation. As a soon-to-be member of the United States Military Academy West Point, Jaida Strippoli will continue on her path as a determined scholar athlete, shooting countless hoops for the West Point Army Mules Basketball Team.
Q&A with Scholar Athlete Jaida Strippoli
Question 1: How do you balance community involvement, as well as academic achievement, with the commitment of athletics?
I balance community involvement, with academic achievement, and athletics with time management. I use almost all of my free time in school to get my homework done so that after long and late practices I can just study or participate in community service activities. I'm an avid user of task lists, I've discovered early on that this is the most important tool. I write out what I need to complete for the week and make sure I stick to it, so everything gets done. My weekends are dedicated to basketball, doing extra workouts or just shooting at Club Fit.
Question 2: What motivates you most on the field, court, etc.?
What motivates me most on the court are my teammates, coaches, and family. I despise the thought of letting anyone down, so I constantly remind myself that people are relying on me to perform well. My teammates and I are like family, and we all are determined to win as much as we can this season and that really contributes to what fuels my motivation during games.
Question 3: What do you consider to be your best accomplishment (could be academic, athletic, community-related)?
My best accomplishment would probably be winning the State tournament and Federation tournament my freshman year. To win it all was such an amazing feeling and it made the seniors on that team ecstatic. It was an all-around rewarding experience. It also motivated us all to rise to the challenge the following season.
Question 4: What is the most rewarding part of achieving feats for your team?
The most rewarding part of achieving feats for my team is to be able to enjoy the hard work and celebrate the good times with my team. It makes it feel more rewarding when you go through many hardships, yet still get to experience the good times with everyone involved.
Question 5: Is there someone who has inspired you, or helped you meet your achievements?
My family, teammates, and coaches make everything possible! They have supported me constantly and have helped me become the person I am today!
Question 6: How do you involve yourself in the community?
I involve myself in the community by going to AYSO soccer clinics in the fall to help coach little children soccer skills, and I also am a camp counselor for the Ossining Girls Basketball camp during the summer where we help girls acquire new basketball skills and play basketball-related games.
Question 7: If you could describe your experience as a student-athlete in three words, what would they be?
Challenging, Rewarding, and Exhilarating.
Thanks to our Scholar Athlete feature partners, Club Fit and Laur-Lee Sports.
About the Writer: Sarah Dolgin is a senior at Briarcliff Manor High School. She's the Managing Editor of The Briarcliff Bulletin, the School's student run newspaper. Sarah will be attending the S.I. Newhouse School of Public Communications at Syracuse University in the fall.