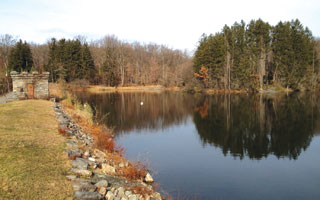 Unlike his neighbors to the north, Irvington Village Administrator Lawrence Schopfer chose to get a head start on next year's budget in order to get discussions going. "Back in July, the treasurer and I presented a draft budget for 2013-2014 to the Board of Trustees," he says.
"It was obviously a very rough draft, given that it was 11 months early, but we gave them a good picture of where we stand in relation to the 2% tax levy cap. Based on our draft, we were projecting that we would exceed the cap, but again those were with very preliminary numbers."
Of course, a few months after he started working on the 2013-2014 budget, the biggest kink in the 2012-2013 budget slammed into the Village. "From a budget standpoint, was [Sandy] debilitating or devastating? We're not really sure yet. We didn't sustain a significant amount of damage to public property. We did have some [damage] down by our parks and a lot of trees down and a lot of debris to be picked up, but we will be working closely with FEMA on that, and we hope to recover a large portion of those funds."
The biggest victim of Hurricane Sandy was the Bridge Street area. As of this writing, a number of first floor tenants remain displaced or otherwise closed while cleanup from the Hudson River's devastating surge continues.
With Sandy in the rear-view mirror, Irvington set its sights on a couple of water-themed projects. "The single biggest project we have right now… is the replacement of the Mountain Road Water Tank," says Schopfer. "We have a 600,000-gallon water tank which was in disrepair and dates back to the 60s. The tank needs to be replaced."
Irvington bid out the project last summer, and construction has already begun. "It's a big project that's going to last throughout the winter," says Schopher. "It's being done in the fall, winter and then the early spring. We hope to wrap it up while our water usage is low. In the summer, we need that extra capacity." Right now, the tank is expected to be online by April, and Schopfer sees no reason why that timetable will not be met.
The other upcoming Village project involves installing and replacing a set of valves within the dam structure of the reservoir that will allow the Village to control the water level. "Those valves have been inoperable for 40 or 50 years, frankly," admits Schopfer. Currently, when a major storm such as Sandy or last year's Irene approaches, he gives the order to bring up the pumping trucks and drain the reservoir as much as 18 inches. This takes time and money, but can be essential in preventing damage. While Sandy did not bring a considerable amount of rain, Irene dumped enough water, that had Irvington not drained the reservoir,
it would most certainly have overflowed and flooded the surrounding area and beyond, as gravity would have pulled the water down towards the river in a hurry.
While not a hugely expensive project (priced at between $120,000 and $130,000), fixing these valves will save the Village money in the future as the prediction of more super storms increases.