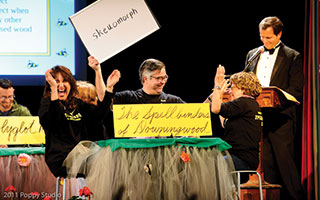 7th Annual Community-Wide Spelling Bee to Benefit the Library; Silent Auction to Feature Character-Naming Opportunity in Upcoming Novel by New York Times Bestselling Author David Baldacci.
Dust off your dictionaries and turn off spell-check, the Spelling Bee is coming to town!
Irvington residents are gearing up for one of the Village's most anticipated community events of the year, the annual community-wide Spelling Bee presented by the Friends of the Irvington Library (FOIL).
Back by popular demand and now celebrating its seventh year, the Spelling Bee is considered the ultimate Village competition with dozens of teams representing local businesses, churches, organizations, teachers, students, and neighborhoods.
The fun-filled evening includes live music by The Lagond All-Stars, mop-headed judges and great raffle prizes. Choreographer Debralyn Press will direct the dance performances by the Sleepy Hollow Performing Arts Center.
Jon Scott, Fox Network News Anchor and Village resident, will return as Master of Ceremonies and Enunciator. Judges include Rivertowns Enterprise editor Tim Lamorte, Irvington High School Principal Scott Mosenthal and author Kate Buford.
This year's Silent Auction features a rare character-naming opportunity in an upcoming novel to be written by New York Times Bestselling Author David Baldacci. Baldacci made a big splash on the literary scene with the publication of his first novel, Absolute Power, in 1996. A major motion picture adaptation followed, with Clint Eastwood as its director and star. He has published 25 novels, all of which have been national and international bestsellers.
Baldacci is involved with several philanthropic organizations and his greatest efforts are dedicated to his family's Wish You Well Foundation®. Established by David and his wife, Michelle, the Wish You Well Foundation supports family and adult literacy in the United States by fostering and promoting the development and expansion of new and existing literacy and educational programs. In 2008 the Foundation partnered with Feeding America to launch Feeding Body & Mind, a program to address the connection between literacy, poverty and hunger. Through, nearly one million new and used books have been collected and distributed through area food banks. Baldacci explains, "With this program, people go home with food, which they need to live, as well as with books, which they need to change their lives."
"We couldn't be more thrilled that the Spelling Bee has become such a popular Village tradition, attracting people of all ages," said Sarah Cox, President of the Friends of Irvington Library. "The Irvington Spelling Bee is a fun way to emphasize the importance of literacy and the key role that our local library plays in all our lives. We are especially grateful to New York Times bestselling author David Baldacci for his commitment to literacy and his gracious offer for our Silent Auction. We know that everyone will vie for the chance to become a character named in one of his upcoming novels," added Cox.
First place winners will have their names engraved on a coveted silver trophy that will be on public display at the Irvington Public Library.
The Spelling Bee takes place at the Irvington Town Hall Theater, 85 Main Street at 7:00 p.m. on Friday February 1, 2013. Tickets are just $10 at irvingtontheater.com. Snow date is Saturday, February 2, 2013.