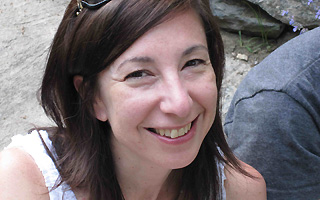 After almost 8 years of writing the gardening column for this paper, it was suggested that I write a piece about some changes I've recently made in my life. My immediate reaction was, "Who on earth would be interested in that?" However as I reflected on these past months, I realized that I have heard certain comments over and over: "Wow, I'm so jealous." "I, too, would love to pursue my passion." Or my favorite, "It was like you were in my head."
It's been so rewarding to connect my own experience with those of other women, and there are so many of you out there. Bright, talented, frustrated women balancing work, home, family and countless other obligations – while nurturing a passion (or 2 or 3) that is desperate to get out and be fulfilled. For some of you it's painting. For others it's pottery — or sewing — or handmade soaps, but the common thread is, how do we turn what we love to do into the thing that we actually spend our days doing? I was in just that place 6 months ago.
Three years ago, before I found out (much to my surprise) that I was pregnant, I was starting to plan my next chapter as a soon-to-be empty nester. I was a little sad and (more than) a little scared.  But the plan was my life raft,  keeping me emotionally afloat and optimistic for a great "Chapter 2." Then my Noah arrived. For 2 years I basically kept my head above water and maintained the status quo for the rest of my family. As for Chapter 2? Well, I assumed that Noah was "it" and I'd re-visit when he started high school. And then one day I did the math – and realized how old I would be when that time came. And I decided that I couldn't wait — and, more importantly, that I didn't have to wait. Maybe my original plan was no longer viable but there could be a new (and maybe even better!) plan. But what?
I thought about how I had chosen the many careers I've had in my lifetime — interior designer, make-up artist, would-be baker and, for the past 9 years, landscape designer (to name a few) – and it was never by running toward them with excitement and passion. Instead, I always "backed in." I'd rationalize that the job "worked" for my (fill in the blank) lifestyle/children's needs/ time constraints/financial obligations. Maybe not the worst reasons to choose a job, but certainly not ideal for figuring out what your passion is.
This time I vowed to do things differently – I'd disregard the rationale and go for the passion — what I could envision being genuinely happy doing, all day, every day. I didn't limit myself to what "made sense" or "fit in" or what I necessarily had the skills for. But simply, what did I love to do?
I started making a list — and a plan started to take shape. What came out was a love of writing — about baking, cooking and gardening. A love of sharing my new favorite "finds" – a bakery, boutique, park or restaurant.  And a love of teaching. So I decided to create a blog – the name of which would be "Donuts, Dresses and Dirt" (I also love alliteration….). Now, I knew nothing about writing a blog. Although I followed several, I held the authors in such high esteem that I couldn't even reckon putting myself in the same category as these "real" writers.  But once I had the idea in my head I couldn't shake it loose — and I couldn't wait to get started.
I knew I was on the right track because, for the very first time, I couldn't see the final outcome. This may seem counterintuitive to how one should start a new career. (What – no business plan? No 10-year projections?) But I now know that part of the excitement — and pleasure — in doing this is the not knowing where it's going and what will happen next.  I've allowed myself the prospect of succeeding — not so much in the traditional ways we measure such things, but by actually feeling happy and fulfilled.
The response has been overwhelming. One of the most consistent – and rewarding comments I've received is when someone says, "Reading your blog feels like you're talking to me." This is so affirming to hear because it means that I'm writing in my true voice, with the natural passion and enthusiasm that flows out of me whenever I'm talking about a subject I love.
Where will I be with this a year from now? I don't know. I've partially scaled back my landscape design business so that I have time to write the blog, which I do after Noah goes to bed. Basically, if a candle had 3 ends I'd be burning them all. But I can honestly say that I'm having fun – and "fun" is an ingredient that's been missing from my "work" for too long – maybe even forever. ©
Sheri Silver writes the blog "Donuts, Dresses and Dirt" (www.sherisilver.com) and owns fiori garden design (www.fiorigarden.com).