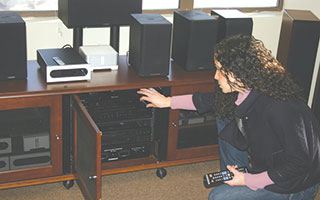 Enveloping Sound is a retailer and custom installer of home entertainment systems. Their showroom is located at 515 North State Road in Briarcliff Manor.  They offer a wide range of products and services ranging from adding a single component to your entertainment system, creating whole home distributed music, converting your family room into a "stealthy" media room or outfitting a dedicated in-home movie theater.  With over 30 years of IT experience they can provide you automated lighting and shading control all while improving your home network. 
Tired of the mess and confusion? The folks at Enveloping Sound can replace your basket full of remote controls with just one that is personalized and simple to use.
Using a wide array of top notch products, which include but are not limited to:  Samsung HDTV, Bose, Denon, Marantz, Parasound, Salamander Designs furniture, Lutron lighting and shades, Panasonic,  Paradigm speakers, SONOS wireless audio, and Sony – the designers at Enveloping Sound create an entertainment system that caresses your senses, and enhances your lifestyle while fitting any budget.
Get the personal attention you desire by contacting either Richard or Steven to set up a home walk- through consultation or stop in the show room to experience what your home entertainment system could be.
The showroom is open daily until 7 and by appointment after hours and on weekends. You can also visit their website at www.EnvelopingSound.com or call 914-502-0800.