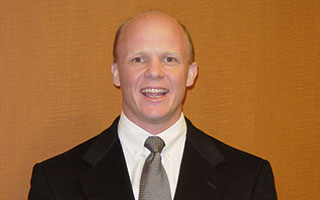 The announcement was made at the organization's 32nd Annual International Convention and Trade Show, held recently in Las Vegas. The IHRSA (International Health, Racquet & Sportsclub Association) Board of Directors is chosen to serve the fitness industry by providing guidance, strategic direction and insight with lasting global impact.
Bill's appointment brings Club Fit to the national stage, a big accomplishment for the two-facility, family-run health and fitness organization that has become a fixture in the local community.
"I've watched family and friends suffer with chronic diseases brought on by poor diet and lack of physical activity, and that's inspired me to help provide our members and the surrounding community with a better quality of life through exercise and movement," says Bill. His personal approach is to work out early in the morning before the day's events can get him off track.
After Bill earned his degree in Sports Medicine from Guilford College in 1990, he joined Club Fit Briarcliff as Fitness Director and Sales Representative. He worked his way up through the organization, eventually serving as General Manager of both the Jefferson Valley and Briarcliff locations. He earned his MBA along the way from Pace University, and was appointed Vice President of Operations in 2005. He was named President of Club Fit in 2010.
For 40 years, Club Fit has worked to enhance the quality of life and physical well being for members of all ages. In addition to the club's state-of-the-art facilities and comprehensive programming, Club Fit is also an active member of the local community. Founded in 1973, Club Fit operates clubs in Briarcliff Manor and Jefferson Valley, serving more than 10,000 members and their guests.