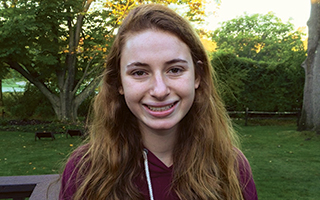 Student's Dementia Science Research Published in Medical Journal
. "My grandfather passed away from Alzheimer's disease, a form of dementia," said Briarcliff High School student Jamie Nadler, explaining why she chose to study dementia for her science research project. Her study on the connection between pain, physical functioning and delirium in people who suffer from dementia was done with Dr. Ann Kolanowski at Penn State University. The results of her research were published by the prestigious Journal of the American Medical Directors Association under the title, "Pain, Delirium, and Physical Function in Skilled Nursing Home Patients with Dementia."
"The major takeaway is when individuals with dementia have a higher level of pain, they have a greater amount of delirium and vice versa," Nadler explained. "My mentor believed the results were strong enough to be published."
Silverman Speaks at Literary Conference
High School teacher Yelena Silverman recently spoke at the 19th annual Rockland Literary Extravaganza Professional Development Conference at St. Thomas Aquinas College. Speaking on the relationship between the Common Core Standards in New York and the Next Generation Science Standards, Silverman – who recently received the Fellows New Teacher Award from the Science Teachers Association of New York State – explained to her fellow teachers how integrating the two sets of standards into lesson plans can help students achieve higher scores on standardized tests as well as develop them into college-ready independent learners.
Students Advance in National Science Competition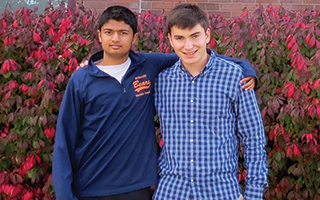 Senior Robert Karp and junior Karthik Rao's science research project, "A Network Flow-Based Approach for Post-Merger Airline Hub Consolidation," has moved on in the Siemens Competition in Math, Science & Technology to the regional finals as one of just five team projects statewide chosen for presentation to a panel of judges at Carnegie Mellon University in Pittsburgh this November for a chance at the national competition.
"It's very difficult – we are very honored to be part of the competition," said Karp, who began the project as his science research topic during his sophomore year. "It's very competitive as they only pick 60 projects in the country."
Rao offered to take Karp's project to the next level when he heard him present in class last year, suggesting he incorporate a mathematical model into the analysis. "I had been working with a mentor [Dr. David Steadman, general pricing strategist] at Delta Airlines. We created a logistic function last year to talk about post-merger hubs," said Karp. "It was good research, but Karthik had a lot of background knowledge in computer science. When he came along, we turned that more into a focus on network optimization."
The two are excited about continuing in the Siemens competition and seeing additional ways to apply their model to real-world scenarios.
Seniors Earn National Merit Recognition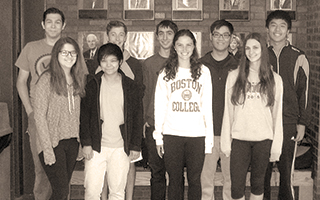 Nine Briarcliff High School seniors have been named National Merit Semifinalists by the National Merit Scholarship Corporation. These nine students are among the 16,000 semifinalists chosen as part of its 60th annual scholarship program. Briarcliff's semifinalists are Sloane Bashford, Matthew Bombassei, Daniel Bramson, Russell Francis, Adele Fu, Allen He, Hana Grace Lee-Niosi, Austin Li, and Grace Orr. They now have the opportunity to compete for over 7,600 National Merit Scholarships worth a total of $33 million.
Also recognized by the organization were Briarcliff students Charles Driver, Joseph Flihan, Ezra Gans, Jacob Gans, Jai Menon, Arjun Rao, Jacob Ryan, Olivia Segal, Michael Terilli, and Edwin Zhou as National Merit Commended Students. "The Briarcliff High School community is extremely proud of our National Merit Semifinalists and Commended Students," said BHS Principal Debora French, "They have worked tirelessly to achieve these academic honors, and they are well-deserved."
Kindergarteners Celebrate Autumn With A Resounding Crunch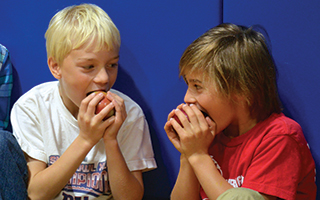 Todd Elementary School kindergarten celebrated its annual Fall Festival with students painting pumpkins, making scarecrows, and singing songs. "Fall Festival culminates with a performance," said kindergarten teacher Jeanne Smith. "Each kindergarten class sings an individual song that their costume is related to. Then, the grade sings two more autumn songs, one of which includes sign language."
Perhaps the most anticipated event of the week was the second Big Apple Crunch, sponsored by the PTA. While rain forced the event indoors, faculty members noted the "crunch" (of children and their apples) was heard loud and clear inside the gymnasium. "The kids really enjoyed crunching the apples together," said Todd PTA Co-chair Betty Ng-Beckler.
Briarcliff Students Raise Over $1,800 to Battle Breast Cancer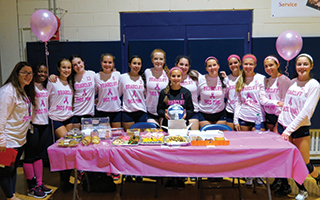 45 students from the Briarcliff volleyball and field hockey programs, as well as members of the World of Difference Club, gathered to participate in the American Cancer Society's Making Strides Against Breast Cancer walk at Manhattanville. Dubbed the Briarcliff Bears Battle Breast Cancer team, the students raised funds through online donations and game-day bake sales.
"I think it's wonderful that the volleyball program is dedicated to contributing to such a great cause," said first-year varsity volleyball coach Katie Walker, "and I am thrilled to help continue the Briarcliff tradition of giving back."