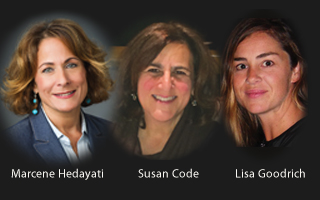 It is hard enough for weather professionals to accurately predict the upcoming weather on any given day despite the sophisticated technology available to them. There are so many variables, such as a sudden shift in wind, that can radically alter the anticipated forecast. Real estate sales in Briarcliff and elsewhere are also subject to a multitude of variables, which can change anticipated market sales. Some of these variables can include interest rates.
At right, Marcene Hedayati of William Raveis/Legends Realty Group, Susan Code of Houlihan Lawrence and Lisa Goodrich of Guard Hill Realty
As interest rates rise, home prices can fall since buyers have to pay more in interest on their mortgages. Given the extraordinarily low levels of interest rates over the past several years, some increase in rates may be overdue.  While no one can predict interest rates, some are estimating they may rise to 5% or higher.
Marcene Hedayati of William Raveis/Legends Realty Group in Briarcliff Manor doesn't see the anticipated increase in interest rates as having much of an impact in Briarcliff.  She notes that interest rate changes mostly impact first- time homebuyers spending in the $300,000 to $400,000 range. "We haven't seen much of a difference in sales with changes in the interest rate. It is typically those buyers on the lower end of the spectrum that are first impacted by the rates."
Susan Code of Houlihan Lawrence in Briarcliff believes global economics can knock some people out of the market entirely.  The overall increase in closing costs, which went into effect on January 10, can also be a determining factor. There can be pressure and a sense of urgency to buy quickly before the interest rates change.  She points out that there are additional variables beyond interest rates and closing costs that impact the market, such as the amount of annual bonuses in any given year, which are often used for down payments.
Regulatory initiatives could also impact the housing market in unpredictable ways.
Despite the impact of increasing interest rates on first-time homebuyers, according to Lisa Goodrich of Guard Hill Realty, the starter homes in Briarcliff go quickly, as young couples want to establish themselves within the community. "For the first time in a while we have been seeing bidding wars."  Goodrich describes Briarcliff as "the sweet spot for buyers in Westchester County."  It has a doable commute [to New York City] at less than an hour, and offers more land than most of the homes in lower Westchester.  "You get a bigger bang for your buck," says Goodrich. "The Village and the community have a small town appeal. The pool, library, tennis courts and a seasonal ice skating rink in a central location create a wonderful and warm village."  You get "the full package with a rural appeal without being really rural and with easy access to New York City."
Susan Code refers to Briarcliff Manor as a "close knit and compassionate community."  According to Code, who is a Briarcliff resident, "For being a small community we have a lot of amenities."  She cited easy access to other locations via the Sprain Brook/
Taconic Parkways, Route 9A and a twenty-minute drive to Westchester airport as well as the proximity to The Westchester mall.  "We have no traffic congestion in Briarcliff." The fact that Briarcliff has its own day camp and is home to two country clubs and seven parks gives residents a lot of recreational opportunities.
The Briarcliff Parks and Recreation Department offer a wide range of activities and events. Code explains with pride, "Briarcliff was the first community in Westchester to have a community pool."
There are many pros to living in Briarcliff, but there can be some cons as well.  Arguably the biggest is that Briarcliff does not have its own train station and most residents use the Ossining, Scarborough or Pleasantville stations. According to Marcene Hedayati, "Since many of the residents commute to Manhattan, this can pose a big problem, not so much for there not being a designated train station for the Village, but that the parking and the getting to and from the station appear to a potential buyer to be more difficult than some of the other local villages." Briarcliff, along with the other communities in Westchester, has always had high property taxes; yet, Hedayati says, "Most buyers, if they have children, speak very highly of the school system, which has always been an important criterion for buyers. The recreation facilities are often pointed out by our buyers as being among the best."   These considerations often outweigh the train and tax issues. Buyers are much more savvy than in the past due to information
available to them on the Internet.
The Elliman Report, released on January 9, 2014, published the Westchester real estate sales statistics for 2013. In the report, single-family homes with 2, 3, and 4 bedrooms had a percentage increase from 2012 of 6.8%, 7.2%, and 4.1%, respectively. Homes with five bedrooms or more were down by 4.0%.
According to Susan Code, the market for homes in Briarcliff over $1.5 million has been very slow yet there has been an increase in activity lately.  "The homes that go for $500,000 to $900,000 are doing well. There just hasn't been that much inventory on the market in the higher price ranges."
Marcene Hedayati is not sure there is a specific pattern of home sales in the higher price ranges.  "Being so close to Manhattan" she says, "we find that the high end seems rather indifferent to slight changes in market conditions which is why there is only a slight increase in the sale of homes over $1 million."  She goes on to say that that we must take into account the low inventory for years in all sectors of the market.
Lisa Goodrich echoes the comments on the limited inventory available for sale in Briarcliff, but believes that people are poised to be less fearful of the market this spring. There is a buying and selling momentum that has been slowly gaining speed.  It is not likely we will attain pre-recession prices in the near future, but the market is emerging from the deep freeze.
Many of the home sales in Briarcliff are due to upsizing or downsizing within the community. Hedayati says, " A good portion of our buyers are upsizing for sure…Briarcliff will always be a community where people will live for years."
Currently, there are not a lot of listings.  "During mild winters, the market starts early," says Code.  According to her, a lot of communication can go on via the Internet between buyers, sellers and agents, but it can't take the place of getting out and seeing properties. This winter has been very cold with several storms and icy conditions and so it seems that the market will advance on a week-by-week basis, weather-dependent.  According to Hedayati, the market used to begin around April, but now it starts after the Super Bowl. "Sometimes it is better to be one of the few homes on the market during the low season then one of the many during the spring."
A lot of people have chosen to hunker down and wait out the bad market, but it appears that the storm clouds are receding and the spring thaw could soon bring a little sunshine on home sales in Briarcliff.