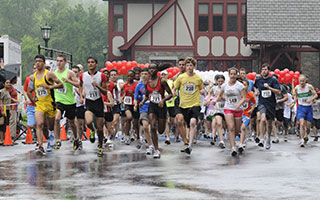 It's time again for the fun-filled Memorial Day Run/Walk in Briarcliff Manor!  Coordinated by the Friends of the Briarcliff Manor Public Library (the "Friends"), the 2013 chip-timed 5K (3.1 Mile) Run/2 Mile Walk will take place on Monday, May 27, and start promptly at 8:30 AM, for both runners and walkers alike.
At right, runners at 2011 Briarcliff Has Heart Race, photo courtesy of Jason Taylor Photography
One of the personal trainers from Club Fit will hold a warm up for participants. Participants are strongly encouraged to pre-register on-line via the Friend's website at www.bmplfriends.org/events.html. Online registration will be available until 9:00 am, Friday, May 24th.  Day-of registration on race day will be available from 7:20-8:20 am; however, after May 20th, entry fees increase by five dollars per person.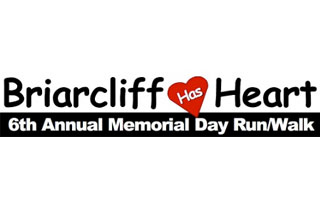 Proceeds from the annual Run/Walk  will support the Library and the completion of the renovation of the old 1906 train station portion of the library building.  Progress is going well, according to Marie Pennacchio, Library Board President.  "We are excited to report that the village is reviewing the final plans for the renovation of the old station portion of the library.  The new Community Center will be providing additional space for the library as well as a whole new, modern cultural and community-oriented center which will be a terrific asset for our residents ," Pennacchio said.
The Friends are very grateful for the sponsors, many of whom sponsor the event every year. The Family of Peter Chatzky and Susan Hamilton are this year's platinum sponsor. The silver sponsors are Thalle Industries, Wilson & Son Jewelers,  Abbott & Price, Inc., Camp Nabby,  Club Fit,  Guard Hill Realty, Houlihan Lawrence Briarcliff, Robison Oil and Diane Kahn – Take Shape for Life. In addition to business sponsors, many individuals contribute as friends and family sponsors, demonstrating that this is truly a community undertaking.
Anyone interested in becoming  a part of this wonderful new tradition as a runner, walker, sponsor, volunteer, donor or spectator can get more information at www.bmplfriends.org or at www.facebook.com/briarcliffhasheart.