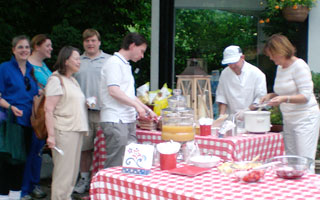 In Briarcliff, whiffs of chlorine, sun block, and other cherished scents of summer have always welcomed early June into our little Village. This year, they were even more pungent with mouthwatering scents of the 2nd Annual Chili Cook Off and Texas BBQ on June 7th, which launched a series of Village events hosted by the Briarcliff Manor Chamber of Commerce.
Last year, the Briarcliff Manor Chamber of Commerce decided to create a string of special events for the first Thursday of each month. Calling it Thursday Night Lights, members invite the public to "stroll, shop, and dine," uniting residents in celebration of Briarcliff's existing vibrant business community. Upcoming themes include the Americana pie contest on July 12 (postponed from July 5th due to the holiday), Artists in the Village – with exhibitions and demonstrations from local artists – on August 2nd, and Kid's Night on September 6th. This month's chili cook off kicked off the season with gusto.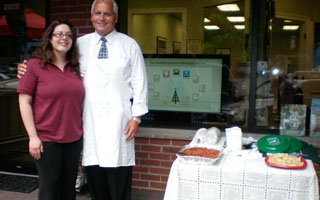 A total of 10 Briarcliff businesses, retailers, and restaurants participated, ranging from clothing shops, such as March and L3 Couture, to realty offices, like Houlihan Lawrence, and Legends Realty Group. Blue flags were hung outside each establishment, inviting members of the public to pop in and enjoy unique chili creations. Voting ballots were distributed to all taste testers, who would mark off their favorite chili maker after sampling an array of recipes. Votes were later collected and counted by Carol Welsh, an interior designer and member of the Chamber of Commerce. The winner received full bragging rights, and publicity that came along with the victory.
In first place, Janniello's Specialty Foods won over the public with salmon chili over black Venetian rice. The dish was designed to be a healthier play on the traditional Italian Bolognese sauce, according to storeowner, Vincent Janniello. His winning concoction of white cannelloni beans, salmon, and peppers topped a soft mountain of black Venetian rice, which is said to be natural in color and rare. 'The seafood makes it!" he said. Although a couple of pounds were made to feed hungry crowds of Briarcliffians, the entire process only took Janniello one hour to complete from start to finish. He claimed that the chili doesn't need to simmer for very long. When asked if being so familiar with food gave him an edge against his competitors, Janniello said, "I hope so! It would definitely be embarrassing if we didn't win." Well, Vincent, no need to worry about that.
Wondrous Things, last year's champion, came in second place with co-owner, Donald Borho's famous beer chili. This year he added new ingredients to last year's secret winning recipe that further complemented and enhanced the existing flavors. Since his mother wasn't much of a cook, Borho began experimenting in the kitchen during his early teen years. Borho's chili ultimately became a huge hit within his own household, and now amongst the Briarcliff community as well.
Third place was awarded to the William Raveis Legends Realty Group with a spicy Middle Eastern chili provided by Lebanon native, Ishmal Xavir. He prepared seven pounds of chili for the event in an hour and a half, but his family recipe has been brewing for years. Although a secret, he did leak information on some ingredients. It entails two types of pepper – chili and habanero – as well as chili sauce and cumin. At the cook off, sour cream and jalapeño peppers were both offered on the side, allowing tasters to customize their chili to their own desired amount of heat or mildness.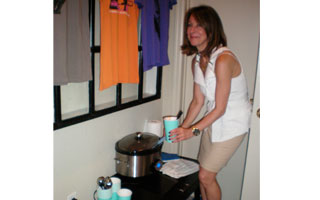 Other restaurants and businesses shared their special recipes, such as Houlihan Lawrence's European Chili with flair and flavors from Russia and Poland. Good Food also contributed with two options – a hearty turkey chili and a healthful vegetarian chili. March's vegetable chili was another crowd pleaser, packed with three types of peppers and zucchini. Holbrook Cottage proudly displayed its own Texas chili, made from a no-hassle mix sold in the store, along with a myriad of other samples, such as chips and salsa, coleslaw, strawberry shortcake, and refreshing drinks.
The event even had a special treat for Briarcliff's children. Kids gathered around two locations for face painting. Volunteer artist Karen St. Vil manned one of them outside of the March boutique. Hedy Moore, who was recommended for the job by her boss at the Ossining Children's Center, staffed the other outside Wake Robin. Both spent the evening painting, transforming kids of all ages into ferocious tigers, elegant butterflies, and bold dragons.
The event came to a close after winners had been announced, as people then proceeded home with full stomachs and painted faces.