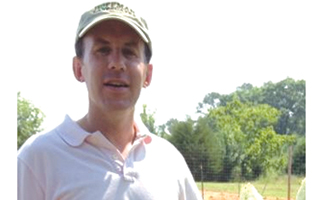 King Garden Designs founder, Charles King Sadler, has been a leader in the landscape industry since 1999. He began his professional horticulture career at the John P. Humes Japanese Stroll Garden in Mill Neck on Long Island's north shore. In 2007 Charles completed his Masters work in Landscape Architecture at Syracuse University's College of Environmental Science and Forestry. Since that time Charles has practiced landscape architectural design with top firms in the greater NYC area, working on residential design, planting, and care of fine properties in CT, NJ, and NY. As of 2012 he opened his own practice in Irvington-on-Hudson where he and his family reside. Continuing education and travels through Japan, South America, Europe, and North America provide ongoing enrichment of Charles's design expertise.
At right, Charles King Sadler of King Garden Designs
Charles mentors aspiring designers; contributes landscape articles for publication; donates pro-bono plantings and design services to local communities, such as the Village of Irvington and the Bedford Historical Society; and is actively involved in numerous civic organizations, including the Rotary Club of Tarrytown and the Irvington Chamber of Commerce.
He provides full landscape architectural services: design, installation, masonry, supervision, expert hand pruning, fine gardening, garden coaching, and horticultural consultation. He is a member of the American Society of Landscape Architects (ASLA) and the American Professional Landscape Designers (APLD).
King Garden Designs' latest projects and reviews available on Facebook, Houzz, and Yelp. T. (914) 907-0246