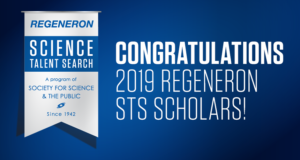 Three hundred high school seniors were named scholars in the Regeneron Science Talent Search, the nation's oldest and most prestigious science and math competition, founded and produced by Society for Science & the Public.
The scholars hail from 184 American and international high schools in 38 U.S. states, the District of Columbia and two countries abroad. Each of the 300 scholars and their schools will be awarded $2,000.
Over 100 of the scholars are from New York with a quarter of those from Westchester County. Among the students honored were six from local high schools:
Briarcliff (Briarcliff High School)
Irvington (Irvington High School
Jacob Dunefsky
Annie Horowitz
Ossining (Ossining High School)
Emma Montgomery
John Sukumar
Elliot Ocheltree
Students from Armonk, Ardsley, Chappaqua, Cortlandt Manor, Cross River, Croton-on-Hudson, Lincolndale, Pelham, Scarsdale, Shrub Oak and Yorktown Heights were also selected.
In 2017, Regeneron became the third sponsor of the Science Talent Search, the nation's oldest and most prestigious science and math competition for high school seniors. As part of its 10-year, $100 million commitment, Regeneron nearly doubled the overall award distribution to $3.1 million annually to better reward the best and brightest young minds. Founded and led by Science Talent Search alumni, Regeneron recognizes and prioritizes the need to inspire more young people to engage in science.
The Regeneron Science Talent Search scholars were selected from 1,964 applications, which were received from 601 high schools in 48 states, two U.S. territories and eligible students living in seven other countries. The scholars were selected based on their exceptional research skills, commitment to academics, innovative thinking and promise as scientists. This year, research projects cover topics from bioengineering to environmental science to physics.
"Regeneron congratulates this year's Science Talent Search scholars, who have applied deep curiosity and rigorous research skills to the important scientific questions of today," said Hala Mirza, Senior Vice President of Corporate Communications and Citizenship at Regeneron. "These students are the future leaders of tomorrow and are using innovative thinking to improve our world. We hope their achievements will inspire other young people to engage with STEM."
On Jan. 23, 40 of the 300 scholars will be named Regeneron Science Talent Search finalists. Finalists will receive an all-expenses-paid trip to Washington, D.C., from March 7-13, when they will compete for more than $1.8 million in awards provided by Regeneron. The Regeneron Science Talent Search finalists are engaged in trailblazing scientific research that addresses some of our most urgent global challenges. While in Washington, D.C., the finalists will undergo a rigorous judging process, interact with leading scientists, display their research for the public and meet with members of Congress. Winners will be announced at a black-tie gala award ceremony at the National Building Museum on March 12.
"These amazing young people have demonstrated an exceptional degree of hard work and passion for discovery. We are inspired by their brilliant thinking, and look forward to continue supporting them in their scientific endeavors," said Maya Ajmera, President and CEO of Society for Science & the Public and Publisher of Science News. "We are thrilled to partner with Regeneron to celebrate this year's Science Talent Search scholars."
Science Talent Search alumni have gone on to have world-changing careers in science and earn more than 100 of the most esteemed science and math honors, including 13 Nobel Prizes, 42 National Academy of Sciences Members, 19 MacArthur Foundation Fellows, 13 National Medals of Science and 5 Breakthrough Prize Winners.
Visit https://student.societyforscience.org/regeneron-sts-2019-scholars to see the full list of scholars.