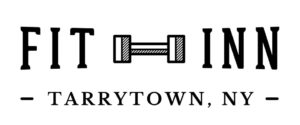 When New York City-based personal trainers Molly and Anthony Canu ran the Sleepy Hollow Halloween 10K six years ago, they immediately fell in love with the area. "We loved how close we still were to the city, the great public school system, and the warmth of the community," said Anthony. In 2016, when they were expecting their now 2-year old son Julian, they started looking for mixed use properties in the area with the idea of setting down roots and opening a boutique fitness studio. 
Fast forward to 2019 and they've combined their love of the area and their passion for personal training with the January 7 opening of Fit Inn on Central Avenue in Tarrytown.  
With all the gyms in the area, the Canus knew they had to offer something different. With 25 years of combined personal training experience, they decided to focus on small classes and private sessions at an affordable price.  
"There are a lot of traditional gyms in the area," noted Molly. "We wanted to provide classes that felt more personalized, safe, and fun. The Fit Inn will have personal trainer-quality workouts as well as private sessions. We'll offer different classes including a HIIT Class (high-intensity interval training), a boot camp-style class, and a strength training class. People want guidance with their workouts, they want to have fun, and they need flexible scheduling. We're hoping to provide all of that." 
Fit Inn will offer classes in packs of 5, 10, or 20, as well as unlimited monthly memberships. The space has showers, towels and hair dryers and free parking is available at 914 Orthodontics. 
With classes starting at 5:15 on weekday mornings and starting back up in the evening around 5:30 PM, Fit Inn is geared towards people who want to fit in a workout before or after work.  
"We are very open to additional schedule requests," said the two. "We want to make sure we are providing a schedule that makes the most sense for our community."