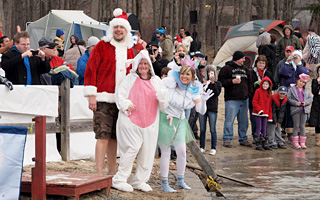 The fliers had been up for a while. Blue paper with snow flakes and bold print announcing that Bethel's Recreation staff was going to jump in a lake for Alzheimer's research sometime in February.
Since our recreation staff is incredibly creative – they've held fund-raising camp-outs in our courtyard with tents, a campfire, and s'mores, organized an Oktoberfest where they donned authentic German costumes, served beer and kielbasa and had a musician sound the rhythm of oom pah pah on his accordion – I thought this lake event was going to be a simulated onsite effort. It was winter after all.
Maybe the "lake" would be one of those little blow-up pools filled with ice cubes in our large activity room. I pictured the rec staff bundling up in mittens and scarves and offering hot chocolate to every person who tried to guess how many ice cubes it took to fill the pool, and graciously accepting donations, throughout the afternoon.
However, several days before the "jump" Michelle Olson, the Director of Recreation, came to my door. She shyly asked if I wouldn't mind taking pictures of the event. I said, of course, no problem.
"Oh, thank you!" she said. "I mean it's going to be freezing out and it's a bit of a drive, but we'd really appreciate it!"
Uh oh. "Wait, it's not in the rec room?"
"No, we're going to Freedom Lake in LaGrange. Duane, Donna and I are jumping in! I know it's crazy, but we're doing it!"
Into freezing cold water, really?  Did they not watch Titanic?
"Sure, okay. I'll be there." Clearly, it was the very least I could do.
Saturday dawned to a light dusting of snow and darting flurries. Upon arriving at Freedom Lake, I see a number of colorful tents pitched along the shore and people milling around. 
Michelle told me that participants would be wearing costumes as part of the Alzheimer's Association Subzero Heroes Icy Jump event. This explained a Superman clad only in blue Speedos and a red cape, the giant Gumby striding past and the shimmering blue mermaid tail sticking out beneath a coat. Three women dressed identically in black, wearing platinum wigs and sunglasses are standing together. There's a Tooth Fairy, Santa Claus and the Easter Bunny. Oh, wait! That's Michelle, Duane and Donna!
The landscape is bleak, but the energy is electric. Music is blasting as a local radio station broadcasts remotely. Everyone is smiling. There is a tremendous sense of anticipation that something good is about to happen.
And so it does. 150 costumed people begin jumping into the water. Some hesitate, others jump without being coaxed. A few pose. The Tooth Fairy, Santa Claus and the Easter Bunny hold hands. With perfect precision, they jump and momentarily disappear under the water. The cheering from the onlookers continues until the last jumper.
It's over quickly as people disperse; seeking warmth and food, but not before this amazing group of characters raised over $40,000! Kudos to all, especially to Michelle, Duane and Donna for walking the walk…or jumping the jump.
Cathy SantaColoma is Director of Communications at Bethel Homes, located in Croton-on-Hudson and Ossining. It is the only not-for-profit healthcare organization in Northern Westchester to offer a full continuum of care which includes: Home Care, Adult Day Services, Enhanced, Independent Senior Living, Assisted Senior Living, two Skilled Nursing & Rehabilitation Centers, Outpatient Rehabilitation, Hospice and Respite Care. For more information, please call 914-739-6700.