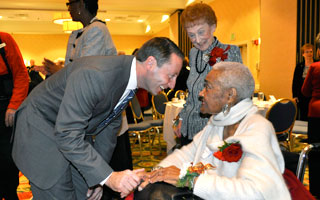 Westchester County Executive Robert P. Astorino recently inducted 46 seniors into the 30th annual Senior Citizens Hall of Fame, thanking them for the lasting contributions they have made in Westchester. A crowd of some 550 guests attended the luncheon at the Westchester Marriot Hotel in Tarrytown.
"I thank you many times over for your contributions, which have enriched Westchester County and its communities in so many ways," Astorino said. "The Senior Citizen Hall of Fame has become a true Westchester tradition – and a wonderful tradition, at that."
Top honors went to Isabel Villar, of White Plains, founder of El Centro Hispano. Special recognition went to John Caralyus of Purdys; Marleen Dandridge of Mount Vernon; Rev. Jeannette Phillips of Peekskill; Barry Singer of Somers; and Carol Stix of Scarsdale.
Former Westchester County Executive Andrew P. O'Rourke started the Senior Citizens Hall of Fame in 1983, which was also the year the county marked its tri-centennial. Since then, nearly 1,000 seniors have been inducted for enhancing the quality of life in Westchester through their professional lives, through volunteer work and more often than not – through both.
The Senior Citizens Hall of Fame is sponsored by the Westchester County Department of Senior Programs and Services, the Westchester County Department of Parks, Recreation and Conservation and the Westchester Public/Private Partnership for Aging Services.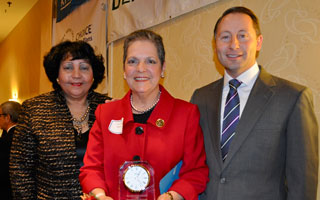 Top honors went to Isabel Villar of White Plains
Cuban-born Isabel Villar founded El Centro Hispano in 1974 and has served as its executive director since that time.  El Centro Hispano is a community organization that works to improve the lives of the Hispanic population. Just a few of the many  programs it offers are ones that help young people  earn college scholarships and  bilingual Boy and Girl Scout troops. It also has a new, state-of-the-art Technology Center, which offers computer classes for children, adults and seniors.
She was also a founder of the Westchester Hispanic Coalition, which advocates for Hispanics to fully realize the American dream through hard work and a level playing field. It serves more than 15,000 people every year.
Villar was nominated by Rosalia Kullock Sosa from Yonkers, who says "She has touched so many lives that I can't count. She helped me and thousands and thousands of others with her generosity and love."
She is the ultimate go-getter. Nothing can stop her. When she came to the United States in 1966 as a young adult from her native Cuba she spoke no English. Nor were there English as a Second Language classes at the time and she said it was "sink or swim" in her classes. She obviously was a good swimmer because when ESL classes began the following year she was placed on the advanced level.
She received a scholarship to Manhattanville College where she earned a bachelor's degree in political science/Latin American studies and went on to get advanced degrees and certifications in counseling from NYU, Iona College and Long Island University.
She worked for many years as a guidance counselor and bilingual teacher at Brien McMahon High School in Norwalk, Conn.
Villar's resume lists more than 44 affiliations she has had over the years with many organizations and awards she has won during her long career.
Just some of the awards are from the Westchester Hispanic Chamber of Commerce, the Westchester Community Opportunity Program and the Westchester County Human Rights Commission. She also received the Americanism Award from the Daughters of the American Revolution. But she says the honor that makes her proudest was being selected as one of the first inductees into the White Plains High School Hall of Fame.
Villar said she is overwhelmed to be named top honoree, and is humbled for the recognition. "I feel very special," she said. "I never forgot my beginnings.  To get such a prestigious award is wonderful.  I never thought I'd be in this category.  This can only happen in the United States of America."
Upon receiving her award, Villar said she wanted to come to the United States for freedom."I found freedom in this country," she said. "I think this country is the land of dreams and opportunities." She then asked the guests at the luncheon to stand and join her in singing "America the Beautiful."
Five seniors received Special Recognition: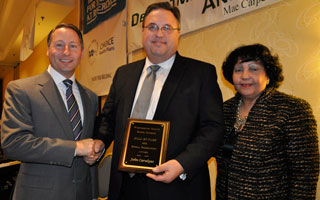 John F. Caralyus of Purdys
(Because  Caralyus recently broke his leg he was not able to attend the Hall of Fame.  Warren Lucas, supervisor of the Town of North Salem, accepted the award for him.)
John Caralyus, who is now retired, worked for New York Telephone Co., a forerunner of Verizon, for 32 years.  He moved to Purdys and the Town of North Salem in 1971 and wasted no time getting involved in the community. One of the first things he did was sign up for the North Salem Volunteer Ambulance Corp where he served for 12 years, including two as president.  In addition, he was a member of the town's Zoning Board of Appeals from 1974 to 1989, and its chairman for two.
The North Salem Chamber of Commerce presented him with a plaque in 2002 for "selfless dedication" to the town – one of many such honors he has received.
Caralyus has also been an active volunteer since 1991 at the Westchester Exceptional Children's School in North Salem, which serves individuals with autism and multiple handicaps and children who are medically fragile.  Caralyus was nominated by Beverly Golisano, of the Town of North Salem recreation department. She is affiliated with the North Salem League, which collects food and gifts for people in need during the holiday season.
"I cannot remember a year when John has not quietly shown up with bags of groceries, frozen turkeys and toys for the children," she said.  "He always stops in to see what we need and how he can help.  It's time to put him in the spotlight."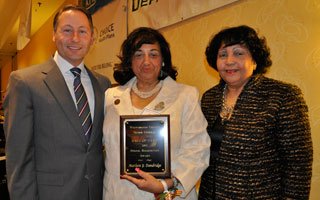 Marleen Y. Dandridge of Mount Vernon
Dandridge was nominated by her pastor, the Rev. Darren M. Morton of the Macedonia Baptist Church in Mount Vernon, who delivered the benediction a short while ago.   She has been deeply involved in the Mount Vernon community her entire life – especially in the fields of education, health and housing.
She worked for the Mount Vernon Housing Authority for 25 years, including for a period as its deputy director.  She is president of the Urban League Guild of Westchester, treasurer of the NAACP's Mount Vernon branch and a member of the Westchester Black Women's Political Caucus and the Mount Vernon Human Rights Commission.
Dandridge was a member of the Board of Education for 13 years, and served as its president for one. She has always stressed the importance of parental involvement in the schools and has demonstrated it by serving as president of the PTA at the A.B. Davis Middle School, and vice president of the PTA at Mount Vernon High School.
Her children have long been out of school.  Dandridge continues to be a member of the PTAs at the Traphagan or Parker Elementary Schools but now delights in seeing her grandchildren progress from grade to grade. And she still regularly attends Board of Education meetings.
Dandridge has always ready to help.  A case in point was when the Narcotics Guidance Council wanted to take children on bus trips to get them off the city streets. More parents were needed, however, to ensure the children's safety. So  Dandridge volunteered to be a bus monitor and group leader that the children could go on trips.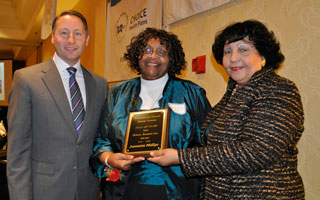 The Rev. Jeannette Phillips of Peekskill
Philips continues to work as executive vice president of Hudson River HealthCare, and has served there as its chairwoman and outreach coordinator.
The center opened its doors in 1975 and today is a model duplicated in sites worldwide.
The Rev. Phillips was ordained a deacon and then an elder of the African Methodist Episcopal Zion Church and works extensively with community youth.  She has also been executive vice president of The Preservation Company as well as a long-time advocate for food pantries, access to affordable health care, housing and education for the disenfranchised and those afflicted with HIV/AIDS.
Phillips was nominated by Valerie A.  Swan from the City of Peekskill's Youth Bureau. She said that through her commitment to her community and profession,  Philips keeps her finger on the pulse of change in Peekskill – which has helped to ensure that diverse programs and health care services are inclusive for everyone in the community.
Swan also praised Phillips' "tireless work with community youth which has  helped them to acquire "positive behavior, spiritual growth and self-esteem."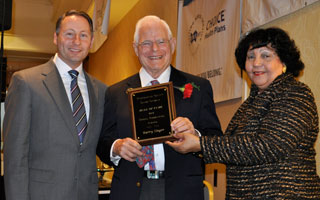 Barry Singer of Somers
Singer was co-founder and president of At Home in Somers, founding president of the Somers Rotary Club and chair of the town's Affordable Housing Board.  He is active on boards at Heritage Hills and was a founding board member and vice president of the Mid-Westchester YM-YWHA in Scarsdale.  In addition, he served on the board and volunteered to be general counsel for the Jewish Board of Guardians. He also was a volunteer with AARP's program to help seniors file their income tax returns.
Two years ago, Singer's achievements were recognized by the county's Board of Legislators when it proclaimed June 28, 2010 as Barry Singer Day.
Singer was nominated by Willa Reichbach, a retired professor at Westchester Community College.
"Barry Singer is a compassionate, highly energetic and intelligent man," she said.  "He is always in motion. His energy is used to help others. He identifies problems in the local community and rather than complain he figures out options to solve them. Believe me, Barry Singer is one of the best."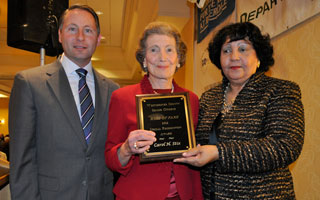 Carol H. Stix of Scarsdale
Stix had worked as a professor of sociology and political science at Pace University for 32 years.  She is a former chair and long-time supporter of Planned Parenthood Hudson Peconic and currently serves on the Leadership Council and fund-raising committee of the Planned Parenthood Federation of America.
Stix had been a trustee of Barnard College, president of the Scarsdale Community Foundation, a director of Scarsdale Nati9nal Bank and was twice elected a trustee of the Village of Scarsdale.  She has also served as director of The Little School in Scarsdale, which provides affordable child care for working parents. She was nominated by Reina Schiffrin, who is chief executive and president of Planned Parenthood of Hudson Peconic.
"Carol has been an incredible role model and mentor for so many of us in leadership roles in not-for-profit organizations, government and schools," she said. "She has also set a great example for how to stay grounded, focus on the problem or issue at hand and not let up until it's solved. I don't think you can find  anyone who has given more generously of their time and knowledge to improve the qualify of life in their community than Carol Stix"
CLASS OF 2012 (listed by communities)
Top Honoree: 
WHITE PLAINS – Isabel E.  Villar
Special Recognition Honorees:
MOUNT VERNON  – Marleen Dandridge
PEEKSKILL – The Rev. Jeannette Phillips
PURDYS – John Caralyus
SCARSDALE – Carol Stix 
SOMERS – Barry Singer
Class of 2012
ARMONK:  William Golub
BRIARCLIFF MANOR:  Joseph Lalak
CHAPPAQUA:  Dr. William Flank
CORTLANDT MANOR:  Marie Turner
CROTON-ON-HUDSON:  Laura Seitz, Carol Shanesy
DOBBS FERRY:  Claire Stein
EASTCHESTER:  Robert Moynihan
ELMSFORD:  Elaine Dixon
HARTSDALE:  David Doynow, Yvette Gralla
LARCHMONT:  Lynn Reichgott
MAMARONECK:  Charles Hessler, Shirley Jones
MOHEGAN LAKE:  Ray Procious
MOUNT KISCO:  Lenore Safian
MOUNT VERNON: Phyllis Rosen, Anne Sweazey, Edithia Tracey
NEW ROCHELLE: Maureen Lundahl, Dorothy Sunshine, Judith Weber
NORTH WHITE PLAINS: Lorraine Wuttke 
PLEASANTVILLE:  Lina Spedaliere
RYE:  Nancy Haneman
RYE BROOK:  Allene Berman, Rose Sciandra, Marcia Teschner
SCARSDALE:  Philip Feiner
TARRYTOWN:  Kitty Geissler
THORNWOOD:  Lee Hart
WHITE PLAINS:  Janice Beatty-Hudson, Ganel Gibbs, Dickie Kay, Carolyn Rogers, Marge Weaver
YONKERS:  Claudia Brigman, Euphemia Brown, Jacqueline Campanile, Margaret Silby, Barbara
Weinbaum; Joyce Wignal
YORKTOWN HEIGHTS:  Salvatore Amuso, Robert Schavrien, Theresa Tinge