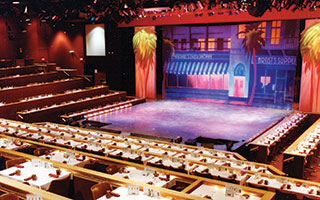 Leonard Bernstein and Jerome Robbins first began discussing a musical adaption of Shakespeare's Romeo and Juliet in 1950.  Choreographer-director Robbins' original premise for the show involved a young Italian, Catholic boy whose gang was embroiled in a fierce rivalry with a group of Jewish kids. It was to be called East Side Story. 
In 1955, after many delays which were attributed to Bernstein and Robbins' busy schedules, the project was reactivated.  The decision was made to concentrate instead on conflicts between the Puerto Rican immigrants who were coming to New York in great numbers; the action shifted to the upper west side neighborhood of San Juan Hill.  The Jewish "Emeralds" became the Puerto Rican "Sharks" versus the Polish-American "Jets" and West Side Story was born. Making his Broadway debut, a 27- year-old Stephen Sondheim provided the lyrics.
When Tony, a Jet, falls for Maria, a Shark, all hell breaks loose between these teenaged gangs. Behind the scenes, to get the dancers in character, Jerome Robbins banned the Jets and Sharks from socializing with each other.  Carol Lawrence, who played the original Maria on Broadway in 1957 said, "He brought this Method-acting technique into the show where he
deliberately tried to ferment animosity and antagonism between the two opposing gangs, both on stage and off stage."  One day he posted an article about gang violence for the cast to see, and above a photo of a murder victim wrote:  "This is your life."
"That kind of bigotry and prejudice was very much in the air," writer and co-creator Arthur Laurents says about the show's dark theme. "It's really, 'How can love survive in a violent world of prejudice?' That's what it's about."
Tony and Maria's love story was complex, very political and impossible. Love wouldn't win in the shadow of such hatred and prejudice. West Side Story faced, for the first time in a musical, the harsh reality that things don't always work out and sometimes hatred has the final say.
Five months before West Side Story was scheduled to open on Broadway, the producer decided she couldn't continue raising money for such a dangerously different kind of musical. Fortunately, Robert Griffith and Harold Prince, who were riding high on the successes of The Pajama Game, Damn Yankees and New Girl In Town, stepped in to take a chance on what would become one of the most successful musicals in Broadway history. The dark theme, sophisticated music, extended dance scenes, and focus on social problems marked a turning point in American musical theater.
Premiering in 1957, starring Mickey Calin as Riff, Larry Kent as Tony, Carol Lawrence as Maria and Chita Rivera as Anita,  the musical went on to critical acclaim worldwide.  It was nominated for six Tony Awards including Best Musical, but the award went to Meredith Willson's The Music Man. Jerome Robbins won the Tony for his choreography and Oliver Smith won for his scenic designs. The 1961 film version picked up ten Oscars, plus a special choreography award for Robbins. The soundtrack, by composer Leonard Bernstein and lyricist Stephen Sondheim, spent 54 weeks at number one in the Billboard chart.
Westchester Broadway Theatre's  last production of West Side Story was in 1998. Obtaining the rights from the Publishing Company to produce the show has been difficult due to the show's repeated national tours and the recent Broadway revival. They are thrilled to finally bring this timeless classic back to the WBT stage!  Director Barry McNabb, who directed and choreographed that production, returns to take the helm.  The show opens on April 9th and will run  through July 5th.
Ticket prices for Dinner & Show range between $56.00 and $84.00 plus tax depending on the performances chosen. Beverage Service & Gratuities are not included in the ticket price. Discounts are available for children, students, and senior citizens at selected performances. Also check the website for ongoing Special Offers!
More news at: www.BroadwayTheatre.com or call the box office at 914-592-2222. The Westchester Broadway Theatre is located at 1 Broadway Plaza, Elmsford, NY 10523.