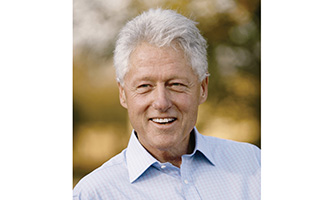 President Bill Clinton will make an appearance at Westchester Community College at a fundraiser for student scholarships and other college support on Saturday, May 18. The event will be held at 1:30 p.m. in the Physical Education Building on the college's main campus at 75 Grasslands Road in Valhalla, New York. Prior to his discussion on national and world events, he will be presented with a State University of New York Honorary Doctorate of Humane Letters.
President Clinton served two terms as President of the United States, and under his leadership, the country's college enrollment rate rose to its highest level in history up to that point. In addition to his commitment to higher education, his core values have included the protection of the environment, expanded access to technology, job creation, and investment in underserved communities. As a longtime proponent of community colleges, his remarks are expected to include comments on higher education.
Westchester Community College is the largest educational institution in the county. With approximately 13,000 credit students and an additional 13,000 non-credit students (the largest Continuing Education Division in the SUNY system), the institution provides a broad range of classes on the main campus, at various locations throughout the county, and online.
Tickets range from $150 to $600 with proceeds going toward student scholarships, mentoring programs, faculty development and other essential services. Members of the public seeking information or to purchase tickets, are encouraged to visit our website at www.sunywcc.edu or to phone 914-606-6558.
*Members of the media are invited to attend. Please pre-register by contacting the college via email to Patrick.hennessey@sunywcc.edu. Members of the press may also phone 914-606-6638 for information.