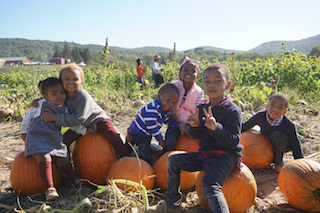 It's officially the height of apple season, and our trees' branches are bending under the weight of ripe, ecologically-grown fruit! To accompany this bounty, we've got a full schedule of farm fun in store this weekend…
Columbus Day weekend is our 5th and largest Fall Harvest Festival, and we have 15 varieties to choose from, including 5 certified-organic apples! Drive your car into the orchard and catch a wagon ride to the trees. After picking, visit the Farm Store and have a bite at the Grill, where you can catch some tunes while sipping a hard cider or beer.
Peak season means the farm will be a very popular place this weekend! We recommend coming early to avoid the rush. We'll have freshly-pressed apple cider, homemade pies, and fall favorites such as heirloom pumpkins, squash, gourds, straw bales, and corn stalks  – all available at the farm store!
Live Music 12pm-4pm:
Sunday  Brooklyn Bluegrass Collective. They may be from Brooklyn, but this rotating cast of bluegrass players are true masters of the old-fashioned country genre.
Monday Stax of Soul is a group with energizing soul music, whose big sound fills the air. It's pretty hard to sit still when these guys are jamming.
Corn Maze 10am-5pm
Our new corn maze isn't just fun for you, it's good for the community: a third of the maze proceeds go to a different Hudson Valley non-profit each week. This week we are donating to Sparrow's Nest, a organization started in 2012 with the simple idea of cooking for the families of local moms diagnosed with cancer. Sparrow's Nest has fed over 1200 people since the charity's inception.
Food 11am-4pm
We'll be serving up applewood-fired, grass-fed burgers, hot dogs, Jamaican jerk chicken, vegan veggie wraps and more at our Grill! We'll also be joined by the Farmers & Chefs Food Truck serving lunch made with seasonal, locally grown ingredients.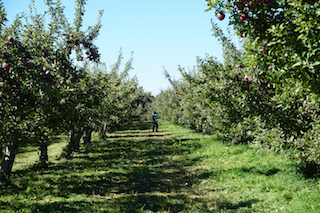 Treasury Cider Bar 12pm-6pm
There's no better way to unwind at the farm than with a glass of our own hard cider, Treasury Cider, made with apples from the trees on view at our "Cider Garden." But if you prefer, we'll also have wine from Millbrook Winery and beer from Newburgh Brewing available by the glass.
Art on the Farm!
A peek inside the world of local farming by photographer Steven Steele Cawman in his Dutchess: Farm to Table. Photos will be on display at the farm store from 9am-5pm through the weekend.