The preview of the much-anticipated Historic Hudson Valley production didn't disappoint. The original black-and-white silent film stars Tony Award-winning actor Bill Irwin (Who's Afraid of Virginia Woolf, Rachel Getting Married) and a cast of veteran performers in a new tale based on Washington Irving's classic short story, "The Adventure of the Mysterious Picture."
The film is directed by Alex Harvey (Walden: Life in the Woods) and was shot on location at Van Cortlandt Manor, a National Historic Landmark in Croton-on-Hudson. Local residents will enjoy seeing a different side of the landmark on screen.
The storyline centers on Irwin's character as a scientist who has no patience for make-believe or haunted happenings. In homage to the silent film era, there is live music and special effects for this spooky production, which opens on Oct. 5 and runs for 16 nights through Halloween.
This is a new signature event for Historic Hudson Valley, which also produces perennial fall season favorites such as The Great Jack Lantern Blaze and Horseman's Hollow.
A film like this reminds the audience of how much fun filmmaking can be and its unique production seems to let the audience in on the joke. Throughout the film, the audience chuckles at the animated guffaws and gestures by the special effects artist. On screen, the actors alternate between comedy and chilling horror.
This silent film is a delightful romp through another era and the audience will appreciate the director's accuracy, authenticity, and attention to detail. Mature themes make this event suited for ages 10 and up, but all those who dare to go will have a memorable experience.
"The Unsilent Picture"
Opens Oct. 5 until Oct. 31 at Philipsburg Manor, 381 N. Broadway, Sleepy Hollow
Run dates are Oct. 5-7, 12-14, 19-21, 25-31. Performances times are at 6:15, 7:15, 8:15, and 9:15pm. Online tickets are $18. Historic Hudson Valley members receive a $5 per ticket discount.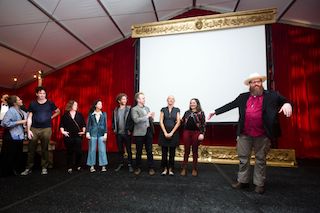 The experience is recommended for ages 10 and up. It contains scenes of drinking alcohol, smoking and snuff tobacco use, implied violence, and mature themes.
Tickets are available online at www.hudsonvalley.org or by calling 914-366-6900 ($2 per ticket surcharge for phone orders and for tickets purchased onsite, if available).