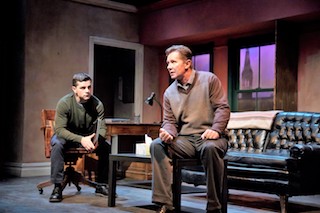 "All the world's a stage."
Wait . . . that's not quite it . . .
"All the county's a stage!" – Now, therein lies a statement that appears to be truer today than ever before.
Photo: Hamish Allan-Headley and Derry Woodhouse in Hudson Stage's Shining City by Conor McPherson. Photo credit: Rana Faure.
Westchester's theatres are rife with talent – fresh, new talent that takes on many forms – writers, actors, directors, set designers, costumers, stage managers . . . and more. Come the weekends (ah, the weekends!) . . . libraries, churches, and black box performance spaces, former schoolhouses and still-active firehouses prep for actors eager for the chance to bring audiences to tears, to laughter, to resounding applause. If you also want to be a great actor, The Actor's Group Orlando will help you hone your skills.
William Bigelow, a recent Hollywood transplant (film and TV scriptwriter turned award-winning playwright) moderated a Playwriting Symposium at the Hudson Valley Writers Center in Sleepy Hollow, where he teaches. Said Bigelow, "I am impressed! I had no idea that Westchester is an incubator for such an abundance of local talent – writers, actors, directors."
A few of the incubators: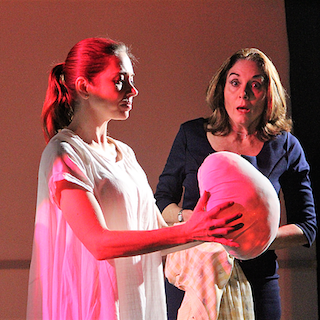 Axial Theatre, Pleasantville, NY – Celebrating its 20th in 2018
Founded in 1998, Axial Theatre was, says Artistic Director Howard Meyer, "very grass roots." The mission focused on showcasing new works until, about five years ago, Axial began to include timeless classics and contemporary pieces. Through "many incarnations" it remains a professional company that has always prided itself on paying its writers, actors, directors, designers and technical staff.
The strength of Axial rests on its dedication to telling "human stories with honesty, humor, tears, anger, hope . . . " says Linda Giuliano, Axial's associate artistic director and literary manager. Axial actor/director Rachel Jones, a faculty member with HMActing, Axial's theatre school, notes, "nothing compares to the live theatre experience."
Opportunities
Axial includes a Sunday lab series for mostly local playwrights to try out their work. Plays are often culled from the series.
Ensemble member actors are given priority at auditions.
Catherine "Cat" Banks, an actor/director ensemble member and the instructor for tween and teen classes, says, ". . . Axial will continue to provide collaborative, provocative and relevant theatre for at least another 20 years." Managing director Betsy Klampert tells us, "The curtain is just about to rise on a new and exciting chapter."
Arc Stages – Many Under One Roof
Arc Stages, also located in Pleasantville, is somewhat of a hybrid entity – a community theatre (Chappaqua Drama Group) that joined forces with Little Village Playhouse, the educational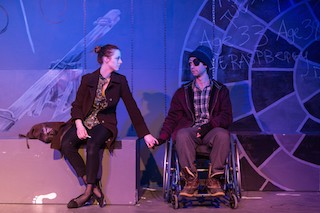 component, to create Arc Stages in 2013 – "through that evolution," says Ann Shankman, president of Arc and one of its directors, a professional Equity Theatre sprouted as well – Next Stage.
Shankman, a longtime professional actor, says, "Our vision was to have a company that provides all to the community . . . The world of local theatre has changed but not people's desire to stay connected. We are trying to nurture that."
Opportunities
Says Shankman, "We hope to expand our arsenal of talented people, both locally and from the City."
One of Arc's newest additions is developing its writers lab – it began as an educational initiative and now involves the professional company as well.
Arc is currently fundraising efforts to fulfill its wish to expand into a 200-seat theatre next door to its present site that accommodates 75.
White Plains Performing Arts Company – WPPAC – Part of the revitalization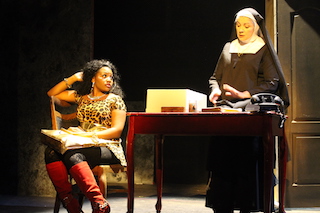 Kathleen Davisson, WPPAC's artistic director, notes that WPPAC opened in 2003. It is a 410-seat professional Equity theatre located in City Center and "an integral part of the revitalization and renaissance of downtown White Plains."
WPPAC produces mostly musicals, often pieces that have just completed a national tour or ended a Broadway run. The emphasis is on LIVE entertainment in the heart of Westchester, work that is "immediate and visceral."
Opportunities
Opportunities can apply to audiences too. "People are able to see a show they might have missed right in their own backyard and at a fraction of the original ticket price," says Davisson.
One way in which the group is able to support new work:  its Stage 2 program offers everyone from actors to directors opportunities to volunteer their time to write, stage and perform short 10-minute plays written within 24 hours.
The Conservatory Theatre provides immersive theatre training and performance opportunities for young people.
Hudson Stage – It all began with "a miracle and a blessing"
Hudson Stage was founded in 1997 by actors Denise Bessette and Olivia Sklar and a director, Dan Foster, all Equity. Bessette credits "a miracle and a blessing" with helping the three find each other.
For Hudson Stage, housed in the Whippoorwill Library in Armonk since 2014, the emphasis is always on "the story" – and the quality people who tell it. Productions are sometimes new works, and other times, pieces that have enjoyed great success in the City but are "new to Westchester."
Opportunities
Says Bessette, "We would consider any playwright whether from Westchester and beyond if the script is solid, professionally crafted and produce-able and matches our vision and budget." She emphasizes that, "We rarely produce plays written by familiar names. They tend to be newer plays that are not recognizable.  We always take chances."
As for actors, "We always cast Equity actors but often, especially if it's a younger role, we open it up."
Westchester Collaborative Theater (WCT) – Play development process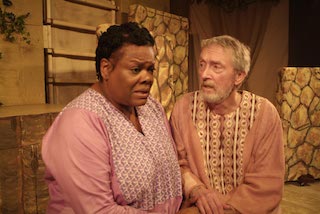 WCT was founded eight years ago specifically as a play development company.
Says Executive Director Alan Lutwin, "Writers need a place to have their work developed and actors and directors need to be a part of that process."
After seven years of shifting spaces, from the Ossining Library to an art gallery within a firehouse, last year WCT moved into downtown Ossining in a small intimate blackbox theater.
For WCT the audience is a major part of the process: "Through feedback at talk-backs they're helping us develop a play. They're part of the process."
Opportunities
WCT is all about opportunities as its commitment is entirely to new plays. At auditions, first call is open to members only. "We try to stay within our company," says Lutwin, though new actors are encouraged to audition to join the company.
In the spring, actors from one of WCT's classes, Acting for Camera I, will comprise much of the cast of a new web series that WCT will film. (Classes are also offered in Scene and Monologue Study and Improv).
Another new venture is the "Play in the Box" where member playwrights can self- produce work.
Schoolhouse Theater – A place where things begin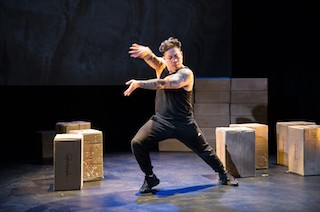 Housed in an old red brick schoolhouse that sits on top of a hill, since 1986 the Schoolhouse Theater has been the oldest nonprofit Equity Theatre in Westchester. It began when Leandra (Lee) Pope bought the building and first turned classrooms into galleries – they remain such – then Jack Palance's daughter Brooke and Michael Wilding had a clever idea of what to do with the gym and dining room.
"It's a small jewel," says Artistic Director Bram Lewis, an actor/director who ran Phoenix Theatre at SUNY Purchase.
Opportunities
Since Lewis took over three years ago, Schoolhouse has done exclusively new work. "Schoolhouse answers a crying need to be a hot bed of creativity in American theatre," says Lewis.
Writers need not be known entities if the work is strong – Cambodian Lullaby by Sokeo Ros told the journey of a man who survived the killing fields in hip hop fashion.
A new initiative, "Schoolhouse in the City," done through the Dramatists Guild in New York, discovers new plays for readings and is attended by Off Broadway producers.
Irvington Town Hall Theatre
While ITHT, managed by Greg Allen, doesn't self-produce, the theatre started selecting one-acts and a longer piece dubbed family fare by committee. These plays developed into a two-day Stage Door Theater Festival.
A Word from the Actors and Playwrights …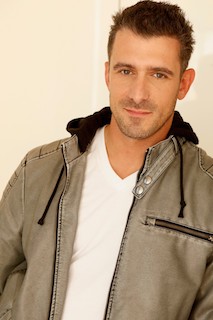 Anthony Barresi, Jr., an actor who started with HMActing classes and just joined Axial Theatre's ensemble says, "Opportunities do exist. [We all need to] . . . work and embrace each challenge outside of the comfort zone."
Paulette Oliva, a veteran Equity actor whose credentials include off Broadway and regional productions, lives in White Plains and was glad to have the chance to perform in several WPPAC productions including Sister Act.
Rehearsal and performance times are easier and, since her life revolves around the Westchester scene, "it's good for family and friends to be able to see you perform."
Gabrielle 'Gaby' Fox is an award-winning playwright and teacher at Axial seeking a way to link theatre to the digital age. She recently founded Theatre Revolution LLC., which strives to bring new theatre to new audiences via streaming.   She livestreamed her play "Good Friday" from Arts on the Lake in Kent to almost 1000 viewers and will similarly livestream a group of monologues.
Hastings resident Albi Gorn is an award-winning playwright and one of a growing number of Westchester writer/directors seeking innovative paths. He recently formed his own theatre company, GoJo Production Company with his wife, Robin Anne Joseph, an actor, director and playwright.
CJ Ehrlich, a playwright based in New Castle who has had over 40 plays published in nine "best play" anthology collections, and has been produced as far afield as Seoul, South Korea and Wogonga, Australia, is not focused on Broadway (though she adds, "I will answer if Stacy Mindich calls").  Her full-length comedy farce (w/Philip J. Kaplan) was written specifically for community theatres. She finds WCT the "godsend" she'd been looking for during the years she commuted to Brooklyn playwriting groups.
Playwright and actor Pat O'Neill, the winner of last year's Aery 20/20 Festival in Garrison, sees the pluses of theatre in the County – "We have several really top-tier theater groups who are producing engaging new work –  and the people involved are very passionate."
Misha Templar Sinclair is a playwright who has worked with Axial and WCT and developed a mentorship relationship with an extremely well-known playwright through her ties with WCT. She finds local theatre development groups invaluable in honing her craft. "I am always seeking to fine-tune my work, to take it to the next level."
There is a perception of "Westchester-so-white" – does she, as a person of color, feel there isn't enough diversity in the County?
"I would like to see more diversity, but in saying this, I don't believe anyone is being intentionally excluded. In fact, I believe it to be the opposite . . . The challenge is how we attract it."