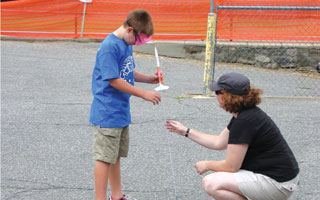 What's the best thing about Challenge Camp?  "I like all the fun choices we can do, like robotics, architecture, rocketry and more," says Josh Gottschall, a camper returning for his third year.
"In Toy Company, my friend and I designed toys, and we got to decide the price, and what the ads would look like," says Amy Chalan, another returning camper.   "It was a really fun experience."  This year, one class she's really looking forward to is Proving Your Case.  "Last year, I saw kids pretending to be prosecutors and on juries. It was incredible."  Oscar Pak, who took Proving Your Case last year remembers, "My class and the Crime Scene Investigation class came together and formed an orderly courtroom case.  It was a great experience to learn how courtroom procedures work and feel."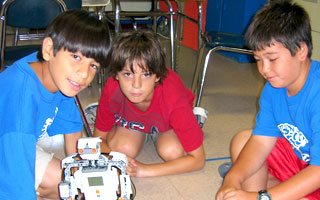 What else?  "Another great class I took was Utilizing Robotics," says Pak.   "It was a great way to understand the programming and functions of a robot.  You will make a robot (actually multiples of them!) and program them yourself." Added Pak, "Each class is planned out so well, you will feel like you're playing a video game!"
According to camp director Maureen Massaro, "That's all part of the design of the camp.  Learning is fun when you really sink deeply into the world of that subject.  And, when you can learn by doing what professionals in the field do, using authentic situations, materials and tools.  It also helps to have a ton of choices."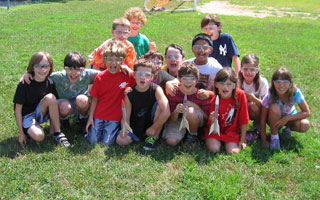 The Challenge Summer Institute is a 2-week non-profit camp geared toward academically talented students from the Tarrytown school district as well as the surrounding areas.  The camp offers a total of 25 courses, designed for students who have completed grades 2-3, grades 4-5 and grades 6-8.  Students can participate for a ½ or full day, and take either 2 or 3 courses.  Each course meets for 90 minutes per day.   Classes are small, with an average of 10-12 students per class. This ensures lots of individual attention for each camper.
All of the instructors are certified teachers, most of whom have course-work, experience and/or certification working with gifted and high ability students. Does a student have to be "gifted" or super smart to participate?  The best kids for this camp are "kids that are thoughtful and like learning in a fun way," says Dominic Polycarpou, a returning 4th grade camper. At Challenge camp, learning is definitely fun.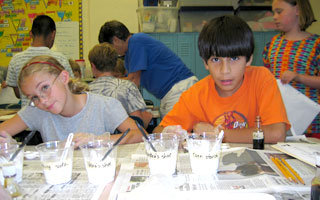 Parents agree.  "As a mother who's had her son attending the camp for two years, I definitely recommend it," raves Kathleen Bautista.  "The kids have a blast in their areas of interest, and they learn at the same time, without feeling like they're back in school."  Her son Jeantil, a middle schooler at Sleepy Hollow, will be learning kickboxing in Body/Mind, conducting blood spatter analysis in Real Crime Fighting and launching projectiles in Siege Engines.
"I'm not sure who's more excited, me or the kids!" says Dana Pompa.  Pompa will be teaching the 2nd-3rd graders Digital Storytelling,  Robotics Basics for the 2nd-3rd graders and Utilizing Robotics for the 4th-5th graders. Tarrytown's Superintendent, Dr. Howard Smith, is also excited.  "This year's camp offerings represent a wonderfully eclectic and creative mix of opportunities designed to actively engage inquisitive young minds.  You just can't get something like this anywhere else, and it is right in our backyard!"
Washington Irving School's beautiful campus overlooking the Hudson is easily accessible—just off exit 9 on I-87/287, right near the Tappan Zee Bridge.
Camp dates: Monday-Friday, August 1-12.
Camp hours: 8:30-2:30 (or 8:30-12:15 for morning-only students).
[blockquote class=blue]For more information, brochures and registration materials, go to http://challengesummerinstitute.com or contact director Maureen Massaro at: mmassaro@tufsd.org[/blockquote]