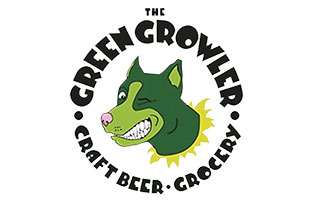 Just off Route 9 in Croton-on-Hudson, we followed the sound of rock and roll and found Nirvana… Errr, Beervana.  The Green Growler is not your ordinary beer store with stacks of dusty beer cases on palates.  It's cool. There's a vibe.
There is always an eclectic mix of rock music streaming out onto the sidewalk to lead you into the Green Growler. The Green Growler is a "craft beer grocery," selling a variety of hundreds of craft beers fresh from the keg in growlers, bottled, canned and, errr, pre-conception.  That is, they sell homebrew supplies, too – everything you need to make your own craft beer. In the spring they offer homebrew classes for those interested in making their own craft beer.  They also sell beer gifts and accompaniments: beer t-shirts, beer pickles, beer chips, beer soap, and just about anything you can imagine that could be made with beer, is about beer, or that goes with beer.
For the uninitiated, the Green Growler provides information on a chalkboard behind the counter. "So How Does This Growler Thing Work?" it reads. Good question. Growlers are 64 or 32-ounce bottles that can be filled and refilled with fresh draft beer from the store's eight (8) taps. Refilling is the "green" part of the business – no moreenergy wasted on recycling or trashing beer bottles. With eight taps for growler fills, you are likely to find a beer you can curl up with and love.
We recently found on tap Green Flash West Coast IPA, Dogfish Head's Birra Etrusca Belgian, Newburgh Brewery's Sterk Ale von Hoodie, Rushing Duck's Naysayer Pale Ale and of course, the Captain Lawrence Captain's Reserve
Imperial IPA. They keep a beer menu updated on their website:  www.thegreengrowler.com
We recommend making a pilgrimage. You will become a believer.
Green Growler Grocery, 368 S. Riverside Avenue, Croton-on-Hudson, NY.
www.thegreengrowler.com
914-862-0961.