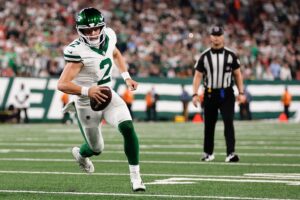 The Philadelphia Eagles and New York Jets' impending clash is one of intrigue and speculation. In this comprehensive analysis, we delve deep into the various facets that will dictate the course of the game. From injuries and performance stats to team tactics and individual brilliance, get a thorough understanding of what's at stake in this high-octane contest.
Injuries' Impact on Match Allure
Sports is unpredictable. Just when fans were gearing up for a spectacular showdown between the Philadelphia Eagles and the New York Jets, an unfortunate twist has slightly marred the anticipation.
The Rodgers Setback
The game's charm took a hit after the unfortunate injury to quarterback Aaron Rodgers. This isn't to say that the Eagles are without merit. They've maintained an undefeated streak with their recent 23-14 road victory against the Los Angeles Rams.
On the other hand, the New York Jets, despite losing a significant player like Rodgers, have managed to sustain with a 2-3 record, showcasing their resilience after an impressive 31-21 road win against the Denver Broncos last week. Their commendable performance against the Kansas City Chiefs the previous week indicates that they're adjusting to the challenges and are on the right path.
Zach Wilson's Challenge
Stepping into the shoes of a stalwart like Aaron Rodgers is no easy feat. And for Zach Wilson, it has been a journey of highs and lows.
While Wilson has displayed flashes of sheer brilliance, showcasing his immense talent, he's also grappled with consistency. The Jets have had their moments, especially in games like the one against the Chiefs. However, decision-making on the field has been a thorn in their side, limiting their offensive prowess. It's not solely on Wilson.
The offensive line, ranked among the top 10 for sacks allowed this season, hasn't been particularly protective of their quarterback.
Breece Hall's Offensive Prowess
Every cloud has a silver lining. And for the Jets, that shimmering hope often manifests in the form of their star running back, Breece Hall.
In their game against the Broncos, Hall was nothing short of spectacular. With 22 carries resulting in 177 yards, topped with a 72-yard touchdown, he's undoubtedly a force to reckon with. His unique blend of speed and the ability to evade tackles makes him an indispensable asset. Even though the offensive line has its struggles, they've managed to create opportunities for Hall to shine.
The Jets currently sit 11th in rushing yards per game. Their strategy is clear: create enough space for Hall to make those 60+ yard runs. With the recent season-ending injury to offensive guard Alijah Vera Tucker, the Eagles will need to strategize effectively to keep Hall in check.
Garrett Wilson's Role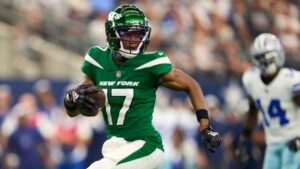 The synergy between a quarterback and a wide receiver is quintessential in football. And for the Jets, it's the relationship between Zach Wilson and Garrett Wilson that often takes center stage.
Garrett Wilson, despite not having a standout game this season, remains a potent threat. The Eagles, with their secondary struggling even in their win against the Rams, need to be cautious. Rams star wideout Cooper Kupp managed eight receptions and accumulated 118 yards against the Eagles. If the Jets replicate that strategy using Garrett Wilson, the Eagles will be hard-pressed to defend.
Eagles vs. Jets Defensive Showdown
In football, defense often wins championships. And both teams, with their respective defensive capabilities, will play a pivotal role in the outcome of this game.
This critical analysis not only serves as a guide for die-hard fans but also as a valuable resource for those interested in the best legal online sports betting. Stay informed about the Jets' strengths, weaknesses, and key player updates as you prepare for an action-packed game that promises excitement and unpredictability. Get ready to witness the Jets in action and explore the opportunities that come with it.
The Eagles have the stingiest defense against the run this season, which might prove crucial against Hall. On the other hand, the Jets, with an average scoring margin of -5.5, have shown that their defense can hold its ground, keeping games competitive.
Predictions and Projections
With all the variables in place, predicting the outcome of this game can be quite a task. However, a few indicators might provide some clarity.
Nick Sirianni's stint as the Eagles' head coach has shown that the team often delivers against opponents they're expected to beat, even if the games aren't aesthetically pleasing. While the Eagles should be wary of an upset, their track record suggests confidence.
The Jets, despite their offensive limitations, shouldn't be taken lightly. Their recent narrow loss to the reigning champions Chiefs by a mere field goal is a testament to their grit and determination. Expect a nail-biter with the Jets' defense ensuring the contest remains tight.
Anticipate an exhilarating showdown as the Philadelphia Eagles lock horns with the New York Jets. With young talents, strategic gameplays, and unwavering determination, this game promises to be a treat for football fans and casual viewers alike.
As both teams prepare to showcase their prowess, fans around the world eagerly await kickoff, ready to witness a memorable contest filled with unexpected turns, strategic brilliance, and athletic prowess on full display.