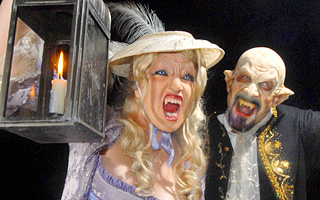 Sleepy Hollow Country will be seriously earning its reputation as the country's premiere haunted destination this fall, thanks to a number of new experiences and returning classics like The Great Jack O'Lantern Blaze.
All are produced by the non-profit Historic Hudson Valley, which is turning October into a big, spooky party filled with ghosts, goblins, "vampirates," and the Headless Horseman himself. Four big events are on tap. Who needs Salem when you've got all this right here?
Here's the lineup, from scariest to kid-friendliest.
Horseman's Hollow — October 15-16, 22-24, 28-30
Are you ready to be scared out of your mind? Horseman's Hollow is a brand-new haunted experience taking place at Philipsburg Manor (381 North Broadway, AKA Route 9) right in the heart of Sleepy Hollow. Visitors will experience the tale of The Legend of Sleepy Hollow taken to its darkest extremes. For eight October evenings, historic Philipsburg Manor transforms into a terrifying landscape ruled by vampires, witches, undead soldiers, ghouls, and ghosts, all serving the Headless Horseman himself!
Visitors begin walking a haunted trail, stumbling upon scary scenes of a town driven mad by the Headless Horseman. The Hollow's unfortunate inhabitants are all too ready to keep visitors from ever leaving.  Creatures, some human and some not, lurk in the shadows, ready to terrify the unsuspecting, while special effects will disorient and unsettle visitors. Those who survive the haunted trail must still negotiate the Horseman's Lair, where hungry Hessians feast on rotting, bloody corpses of unlucky visitors. Stocked with professional actors and state-of-the-art special effects, Horseman's Hollow has a very high fear factor. You have been warned!
Jonathan Kruk's 'Legend' – October 15-16, 29-30
Master storyteller Jonathan Kruk offers a dramatic, candlelit reading of Washington Irving's classic tale, The Legend of Sleepy Hollow, featuring the Headless Horseman, Ichabod Crane, Brom Bones, and Katrina Van Tassel. This will be taking place in the Old Dutch Church, just across the street from Philipsburg Manor. Built in 1685, it's the oldest church in New York! Flavored with live spooky organ music by Jim Keyes, Kruk's storytelling will surely captivate all audiences.
The Great Jack O'Lantern Blaze — October 2-3, 8-11, 15-17, 21-24, 28-31, Nov. 5-7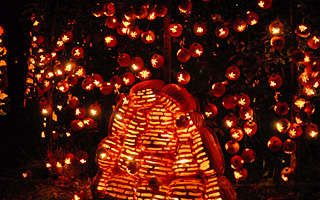 Just how hugely popular has this massive pumpkinfest become? It now extends for 20 nights and into November! It's the Hudson Valley's biggest Halloween event by far, visited last year by more than 65,000 people. See more than 4,000 individually hand-carved, illuminated jack o' lanterns in an elaborate walk-through experience at Van Cortlandt Manor, 525 South Riverside Avenue in Croton-on-Hudson. Meander through an 18th-century riverside landscape and discover a breathtaking display of slithering snakes, shrunken heads, super-sized dinosaurs, plus a mammoth exhibition of mummies and a pyramid…straight out of ancient Egypt and all made of jack o' lanterns!
Legend Celebration – October 23-24, 30-31
This daytime event at Sunnyside, the home of Washington Irving (89 West Sunnyside Lane, Tarrytown) is an excellent choice for families with young children. Highlights include the "Mechanical Man," spooky woodland walks, Legend of Sleepy Hollow shadow puppet shows, life-size puppets, games for children, 19th-century magic shows, live music, ghost stories, and delicious picnic fare. Visitors are encouraged to come in costume!
Ticket information
For Blaze, Horseman's Hollow, and Jonathan Kruk's "Legend," all admissions are by timed ticket, which MUST be purchased in advance, as these events do sell out. Ticket prices are: Horseman's Hollow, $20; Blaze, $16 for adults, $12 for children 5-17, free for children under 5; Jonathan Kruk's 'Legend,' $16 for adults, $12 for children under 18. For Legend Celebration, tickets (adults, $12; children 5-17, $6; free for under 5) are available at the door.
Buy your tickets and get information on these events online at www.hudsonvalley.org, or call 914-631-8200.