The Shiloh Baptist Church, 90 North Washington Street in Tarrytown is in the midst of celebrating its 125 anniversary.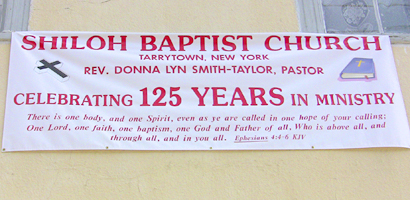 The public is cordially invited and encouraged to attend a Prayer Breakfast on Saturday, June 5, from 9 a.m. to noon, at the Knights of Columbus Hall, 114 North Washington Street. The Reverend Carleton J. Giles, Pastor of Zion First Baptist Church, of Middletown, CT will be the guest speaker. Ticket information is available from Mrs. Dorothy Farley at (914) 909-0992.
The Church Anniversary Worship Service will be held on Sunday, June 6, at 9 a.m. at the Church and Pastor Donna Lyn Taylor will bring the message.
Shiloh Baptist Church has a rich history, especially since the building was formerly Smith's Opera House, the first public hall in Tarrytown.