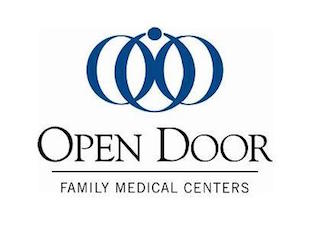 In a matter of days, every community health center in the country faces a "funding cliff," as the federal Community Health Centers Fund is set to expire on September 30, 2017. This fund currently accounts for 70% of federal support for community health centers such as Open Door Family Medical Centers, which serves 55,000 patients in Westchester and Putnam Counties.
Nationally, the U.S. Department of Health and Human Services estimates that the funding cut-off will lead to the closure of as many as 2,800 health center locations and a loss of access to care for nearly 9 million patients.
Federally Qualified Health Centers such as Open Door play a vital role in serving low-income families and individuals with no access or limited access to health insurance. Historically, Funding for these centers has been one of the few areas of bipartisan agreement in the healthcare system nationally. The National Association of Community Health Centers (NACHC) reports that investing in health centers saves the health care system nearly $24 billion annually, as many of these patients otherwise turn to emergency rooms for access. Both the Obama and Trump administrations have extended federal funding. Now, however, a crucial crossroads has arrived.
A coalition of health centers is asking Congress to extend the Health Centers fund for at least 5 years at current funding levels. Missing the deadline, or the uncertainty generated with just a short-term extension, impacts health centers ability to recruit medical providers, secure loans and serve their patient population.
Open Door has been a national pioneer among family health centers for decades.  As a leader in advocating for continued federal funding, Open Door President and CEO Lindsay Farrell traveled to Washington DC on September 14th to meet with Congressional officials. Here in Westchester, the organization is gearing up with volunteer phone banks, direct mail campaigns and social media outreach, all to ensure the continuation of this vital funding.  Open Door estimates that as many as 5,000 of its patients in Westchester County could lose access to care should funding not be renewed.
Open Door has endorsed bipartisan legislation, the Community Health Investment, Modernization and Excellence (CHIME) Act of 2017, introduced by Representatives Elise Stefanik (R-NY), Tom O'Halleran (D-AZ), David Young (R-IA) and Joe Courtney (D-CT). The legislation would extend the Community Health Centers Fund for an additional five years. The CHIME Act would prevent the funding cliff, building on the bipartisan support health centers have earned over their more than 50-year history. Leading national and state political leaders and local business leaders joined Open Door in calling for a five-year extension to community health center funding.
Congresswoman Nita Lowey (D-NY17/Rockland-Westchester), Ranking Member on the House Appropriations Committee, commented, "Community health centers are instrumental in providing health care to New Yorkers throughout the Lower Hudson Valley. If funding were to lapse it would devastate the ability of community health centers to serve the people who depend on them for health care. That is why I fully support, and urge my colleagues to support, an extension of federal funding for community health centers. It is critical that Congress act before the September 30th deadline is reached and these vital health centers are left unfunded."
William M. Mooney, Jr. President and CEO of the Westchester County Business Association, said, "It's rare to see bipartisan support in the healthcare arena these days, but there is broad agreement that community health centers such as Open Door provide cost-effective, quality care that creates stronger communities. Among other benefits, this care leads to a healthier, more productive workforce that is vital here in Westchester and across the country."
Lindsay Farrell, President & CEO of Open Door Family Medical Centers, commented, "Open Door and community health centers around the country have demonstrated that it's possible to provide high quality healthcare in a cost-effective program. Our teamwork and dedication has served us well over the years in delivering this care to our patients, now we must be equally committed as advocates for continued federal funding."
About Open Door Family Medical Centers and Foundation
Open Door Family Medical Centers provides healthcare and wellness services to individuals and families in need throughout Westchester and Putnam Counties in New York. A pioneer in the field of Federally Qualified Health Centers, Open Door serves more than 55,000 individual patients who might not otherwise have access to quality healthcare. Open Door offers integrated services that take a holistic approach to building healthier communities, including primary care, dental, behavioral health, women's health, and chronic disease management, as well as wellness and nutritional services. Over 45 years, Open Door has developed a proven model of cost-effective healthcare care for patients in need that benefits the entire community. Open Door operates centers in Brewster, Mt. Kisco, Ossining, Port Chester, Sleepy Hollow, and Mamaroneck, New York, in addition to school-based health centers in Port Chester and Ossining. Open Door is accredited by the Joint Commission and achieves clinical results that consistently surpass national benchmarks for patient outcomes. Learn more by calling Amy Wolfson, Chief External Relations Officer (914) 502-1416 or online at www.opendoormedical.org.