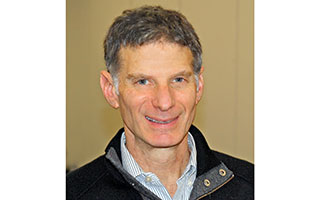 Steve Rosenberg, Scenic Hudson senior vice president and executive director of The Scenic Hudson Land Trust, has been named to the Board of Directors of the Land Trust Alliance. The Alliance, which is based in Washington, D.C., and has several regional offices, works to save the places people love by strengthening land conservation across America. Founded in 1982, the Alliance is a national land conservation organization that represents 1,200 member land trusts supported by more than 100,000 volunteers and 5 million members nationwide.
Mr. Rosenberg has been with Scenic Hudson since 1990. He is responsible for overseeing Scenic Hudson programs that preserve land and create public parks up and down the Hudson River, advocate for a healthier environment in the region, help transform neglected urban waterfronts into publicly beneficial uses, conserve productive farmland, and work with communities to create waterfronts more resilient to sea level rise and increased frequency of flooding and storm damage.
In 2008 Scenic Hudson was one of the first 39 organizations in the U.S. to meet national accreditation standards for forever protecting important natural areas and working agricultural lands. The accreditation is awarded by the Land Trust Accreditation Commission, an independent commission launched by the Alliance.
Scenic Hudson President Ned Sullivan said that Mr. Rosenberg being named to the Land Trust Alliance's board marks another commitment by Scenic Hudson to maintain the highest standards for performance and credibility. "We've been through the intensive audit required to gain the Alliance's accreditation and our staff regularly participate in professional development programs sponsored by the Alliance. Scenic Hudson will further gain by having a top member of our staff serving on the Alliance's board—and they will benefit from Steve Rosenberg's experience and innovation."
Scenic Hudson Land Trust Board Chair Frederic C. Rich, also an Alliance board member, said, "Steve works primarily in the Hudson Valley, but he is known and respected throughout the country as one of our most experienced, innovative and thoughtful conservation leaders. Scenic Hudson has an enormous reputation nationally, and this is an important recognition both for the organization and Steve personally."
Prior to his tenure with Scenic Hudson, Mr. Rosenberg practiced land-use planning and real estate law for eight years. He earned a bachelor's degree in history and urban studies from Northwestern University and a law degree with honors from the George Washington University National Law Center.
About Scenic Hudson
Scenic Hudson works to protect and restore the Hudson River and its majestic landscape as an irreplaceable national treasure and a vital resource for residents and visitors. A crusader for the valley since 1963, we are credited with saving fabled Storm King Mountain from a destructive industrial project and launching the modern grass-roots environmental movement. Today with more than 25,000 ardent supporters, we are the largest environmental group focused on the Hudson River Valley. Our team of experts combines land acquisition, support for agriculture, citizen-based advocacy and sophisticated planning tools to create environmentally healthy communities, champion smart economic growth, open up riverfronts to the public and preserve the valley's inspiring beauty and natural resources. To date Scenic Hudson has created or enhanced more than 65 parks, preserves and historic sites up and down the Hudson River and conserved more than 35,000 acres. www.scenichudson.org