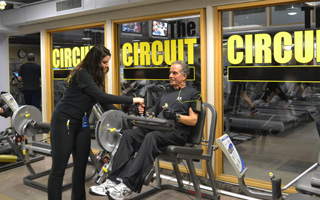 Whatever we celebrate, the holiday season is a time for friends and family. In this day and age, that can mean many things…local family gatherings, long distance travel, or holiday greetings from afar. But it all boils down to one fact: Our loved ones are an important part of our lives.
So, here's a thought. Instead of buying that perfect kitchen gadget for Aunt Norma or making the usual short-term resolutions that focus on ME, ME, ME, take a different approach that will last all year. Resolve to live a healthy life, and help your loved ones do the same.
Step-By-Step
The first step is to evaluate where you stand right now. Do you have health issues? Do you need to lose weight? Are you losing interest in your routine? Next, look at your friends and family. Do any of them have these issues? If the answer to any of these questions is "yes," then do something about it. If the other person is not interested in making a change, encourage them to act, if not for themselves, then for you!
For yourself, consider what you want to accomplish. At fitness facilities like Club Fit in Briarcliff Manor and Jefferson Valley, you can get a fitness assessment and speak to a Fitness Professional about how to incorporate an exercise routine into your life, and set goals. Assessments are available on a walk-in basis, or can be scheduled. No excuses!
Next, explore what programs are available to you. Do you like to swim, play tennis, lift weights? Club Fit's web site (www.clubfit.com) is a great resource, and will get you up-to-speed on the wide variety of activities offered. You may discover something you've always wanted to try but never made time for. Explore pilates, spin, swimming, or tennis. If you feel your age or skill level will get in your way, never fear, there are programs for all ages and abilities at Club Fit..
Get the Ball Rolling
Okay, so you now have a plan. But the first day at the gym is always intimidating! Feel free to take it slowly. Club Fit recently redesigned its Fitness Centers to better accommodate new members as well as existing clientele. The Circuit is a fully-staffed, instructional circuit-based area where Fit Coaches walk you through each machine and help you personalize your workout to best suit your needs. Over time, your comfort level will increase and you can explore the rest of the Fitness Center on your own.
Don't need someone to hold your hand? Then jump right in! But in the case of Club Fit, by working closely with the Fitness Professionals, you may find out more about areas of the club that will complement your existing efforts. Trainers are fully-certified and extremely knowledgeable about what the club has to offer and how to maximize your results.
Teamwork!
If a friend or family member is joining you on your fitness journey, there are many options for you. Court sports are a natural fit for a twosome, but you can also do partner or small-group personal training, take group exercise or aquatics classes together, or just utilize the gym to shoot some hoops or the indoor track to walk or run a few miles. And take the time to catch up!
The results are not only physical. As a matter of fact, medical research is uncovering a connection between exercise and improved mental health, including a reduction of anxiety and depression. It can also help you or your "buddy" gain confidence, take your mind off of your problems, and get more social interaction. So while you are getting closer and closer to your physical goals, you can strengthen bonds and maybe make a new friend or two. All very healthy!
A Win-Win
In 2012, resolve to make a positive change, for yourself and for the ones you love. Whether it is improving your own health or helping someone else face their fears, look at it this way: The time and effort you invest will help you share many more holidays with the ones you love. The gift of health: PRICELESS!
[blockquote class=blue]For more information on Club Fit, call 914-762-3444 or visit their website at www.clubfit.com[/blockquote]