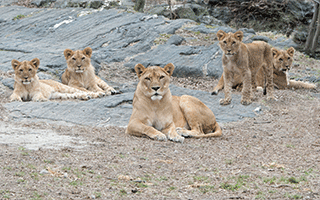 The Bronx Zoo's African Plains habitat features four cubs born last year. The cubs debuted last fall and were announced by Bronx Zoo Director Jim Breheny via Twitter (@jimbreheny).  Born on Aug. 16, the litter is comprised of three males, Thulani, Ime, and Bahati, and one female, Amara. Their mother is Sukari (9 years old) and father is M'wasi (11 years old).  This is Sukari and M'wasi's third litter.
At right, Four African lion cubs (Panthera leo) and their mother soak in the sun at the Wildlife Conservation Society's Bronx Zoo.
Photo Credit: Julie Larsen Maher © Wildlife Conservation Society
Lions live in grasslands and open woodlands across much of sub-Saharan Africa, and the Bronx Zoo's African Plains exhibit is a representation of the East African savannah. One of the most popular exhibits at the zoo, the African Plains opened in 1941 to record crowds and was the first zoo exhibit in North America to showcase African wildlife in a predator/prey setting, with the lions separated from their prey by a moat.
The Bronx Zoo breeds lions as part of the Species Survival Plan, a cooperative propagation program designed to enhance the genetic viability of animal populations in zoos accredited by the Association of Zoos and Aquariums.
In nature, lion populations are drastically declining and African lions are designated as Threatened by the International Union for Conservation of Nature (IUCN).
WCS's African Carnivore Conservation programs conserve imperiled populations of large cats – including lions, leopards, cheetahs, and golden cats – in critical landscapes in Africa, ensuring their unique role in the landscape as large predators. WCS works where African cats are commonly challenged – in fragmented landscapes, and where there is human/wildlife conflict.  Key program activities include: building corridors to ensure free movement of populations; monitoring disease spread between feral cats and dogs and large carnivore populations to tackle disease outbreaks; and stemming illegal killing of large predators by poachers. WCS collaborates with local governments, NGOs, and local communities, building constituencies that will support large predator conservation.
The Wildlife Conservation Society's Bronx Zoo is open daily from 10:00 a.m. to 5:00 p.m. weekdays, 5:30 p.m. weekends from April to October; 10:00 a.m. to 4:30 p.m November to March. Adult admission is $16.95, children (3-12 years old) $12.95, children under 3 are free, seniors (65+) are $14.95. Parking is $15 for cars and $18 for buses. The Bronx Zoo is conveniently located off the Bronx River Parkway at Exit 6; by train via the #2 or #5 or by bus via the #9, #12, #19, #22, MetroNorth, or BxM11 Express Bus service (from Manhattan that stops just outside the gate.) To plan your trip, visit bronxzoo.com or call 718-367-1010.
Wildlife Conservation Society (WCS)
MISSION: WCS saves wildlife and wild places worldwide through science, conservation action, education, and inspiring people to value nature. VISION: WCS envisions a world where wildlife thrives in healthy lands and seas, valued by societies that embrace and benefit from the diversity and integrity of life on earth. To achieve our mission, WCS, based at the Bronx Zoo, harnesses the power of its Global Conservation Program in more than 60 nations and in all the world's oceans and its five wildlife parks in New York City,  visited by 4 million people annually. WCS combines its expertise in the field, zoos, and aquarium to achieve its conservation mission. Visit: www.wcs.org; http://www.facebook.com/TheWCS; http://www.youtube.com/user/WCSMedia  Follow: @thewcs.