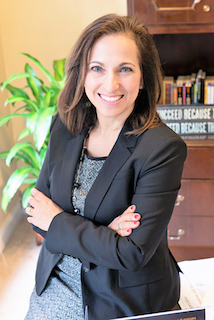 As the debate over affordable healthcare continues in Washington, one local organization – Ossining-based Open Door Family Medical Centers – has pioneered a program of cost-effective care for underserved individuals and families that has earned bipartisan praise. During 2017, Open Door will be expanding its reach by opening its first health center in Mamaroneck, launching new programs such as Open Door Baby Box for expecting moms, and moving into a brand new facility in Sleepy Hollow in the Fall.
Photo: Shirley Acevedo Buontempo, founder and executive director of Latino U, to be honored
On May 4, Open Door will honor Shirley Acevedo Buontempo with the organization's Changemaker Award during a luncheon at Tappan Hill Mansion in Tarrytown. Buontempo is founder and executive director of Latino U College Access, an organization dedicated to supporting college entry for first generation Latino students. The "Power Up" lunch serves as a fundraising event for Open Door, a non-profit that serves more than 50,000 patients each year, many of whom would be otherwise unable to afford quality healthcare, living at or below the federal poverty line.
The lunch offers area residents a chance to learn more about the organization, including opportunities to volunteer, donate, or to become involved in other ways. Open Door supporters attending the luncheon are in for a special experience this year, as star advertising executive Linda Kaplan Thaler will serve as the keynote speaker, offering an inspiring message of empowerment. Kaplan Thaler is a legendary ad executive and motivational author and speaker. She is the former Chairperson of Publicis Kaplan Thaler and President of Kaplan Thaler Productions and is responsible for some of America's most famous and award-winning advertising campaigns. She is also the nationally acclaimed author, together with Robin Koval, of several bestsellers, including "The Power of Nice" and "GRIT to GREAT," ranked as one of the top business books for 2015. Their books seek to empower readers with insights and stories that will help them lead more successful and fulfilling lives.
Linda is a familiar face in the media, having appeared on "The Apprentice," "Good Morning America," "The Today Show," CNN, and as the host of Oxygen's television series "Making It Big."
Open Door's Changemaker honoree, Shirley Acevedo Buontempo, came to the U.S. from Puerto Rico in 1973 as a 10-year-old girl unable to speak English. She went on to become the first in her family to attend and graduate from college, earning a BBA in Business Administration and later an MPA as Master of Public Administration and Non-Profit Management from Pace University.
After a fifteen-year career in marketing and ten years in the non-profit industry, Shirley used her skill, knowledge and passion to launch a non-profit organization that helps first generation Latino students fulfill their college dreams. Since its founding in 2012, Latino U College Access has helped more than 500 students prep for college and land $2 million in financial aid, offering culturally relevant and bilingual programs to inform, guide and support Hispanic students.
Supporters attending Open Door's Power Up Luncheon will help thousands of people get essential medical attention and support services that would otherwise be beyond their reach. Some of the organization's most critical services are not reimbursable or covered by insurance, and are only made possible through the support of donors. These services include patient advocacy, wellness and behavioral health integration – programs that vastly improve health outcomes, save lives and foster thriving communities.
The Open Door Family Medical Centers' Power Up Luncheon is scheduled for Thursday, May 4, 2017, from 12 noon – 2pm at Tappan Hill Mansion, located at 81 Highland Avenue in Tarrytown. Registration information is available at www.opendoormedical.org, or by calling 914-502-1417.