Finally the summer is here! Time to enjoy the beautiful weather, longer days and exhilarating food dishes.  When I prepare meals for a summer luncheon or family barbecue I always like to have a simple dish that has minimal ingredients, but maximum flavor. This way I can spend more time having fun and less time prepping the food. This chilled salad focuses on just FOUR ingredients that, when combined, make for a refreshing and healthy side dish fit for any summer soirée.
Roasted Beet, Cara Cara Orange, and Pistachio Salad
Prep Time: 30 minutes
Cook Time: 30-45 minutes Yield: 6 Servings
Ingredients:
6 medium Red Beets, washed and tops removed
2 Cara Cara Oranges
¼ cup Roasted and Salted Pistachios
¼ cup Basil, chiffonade
Salt and Black pepper to taste
Method of Preparation:
1. Pre-heat oven to 375 F.
2. Take the beets and place 3 of them in enough aluminum foil to make a pouch.  Add about ¼ cup of water to the pouch and seal tightly. Repeat with the other 3 beets. Place both foil pouches in the oven and roast them for 30-45 minutes or until the beets are tender. (Use a small knife to test; if it goes into the beets with ease they are done.) Peel the beets using a paper towel and set them aside to cool. Once cooled cut them into quarters.
3. Now zest both oranges over the beets. Then "supreme" the oranges to get membrane-free
segments. Once all the segments are free of the membrane squeeze the membrane over the beets and orange segments.
4. Toss in Pistachios, Basil and Salt and Pepper to taste. Mix together and serve.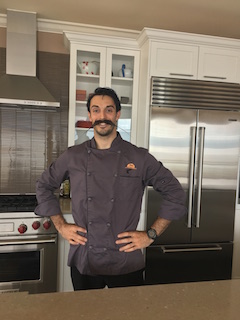 Lucio C. Battista is a graduate of Johnson and Wales University with a Bachelor's in Culinary Nutrition and a Master of Arts in Teaching. He can be found cooking in kitchens all over Westchester County as a personal chef and can be reached at lbattista9823@optimum.net.