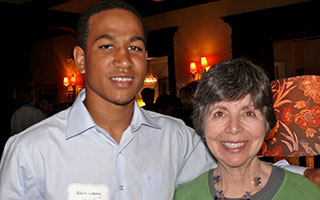 Get involved in our democratic process and stay involved! This was the main theme of two speakers at the Rivertown League's recent event, "Meet your Elected Officials", graciously hosted by Monica Getz at her Tarrytown home this past Sunday, April 28.
At right, Edwin Lopez (left), a senior at Sleepy Hollow High School, was sponsored by the Rivertowns League of Women Voters to participate in the Students Inside Albany program, coordinated for the Rivertowns League of Women Voters by Susan Goodwin (right). He reported on the experience at the League's "Meet your Elected Officials" party at Shadowbrook, the historic home of Monica Getz, on Sunday, April 28. Photo by Corinne Calesso.
Getting involved in politics was the main lesson learned by Edwin Lopez, our Student Inside Albany. Edwin is a senior at Sleepy Hollow High School. After rigorous 12-hour days of lectures, shadowing State Assemblyman Tom Abinanti, and observing committees at work, Edwin is seriously contemplating a major in political science.
Involvement in politics to insure that the peoples' voice is heard, was a message echoed by Representative Eliot Engel, Ranking Member of the House Committee on Foreign Affairs. It was no surprise to hear Mr. Engel lament the dysfunctional climate in the House; he spoke of efforts to further weaken the Environmental Protection Agency, turn away efforts at gun control and campaign finance reform, and limit social programs such as Social Security.
On hand were several other elected officials, including State Senator Andrea Stewart-Cousins, Assemblyman Tom Abinanti, Greenburgh Supervisor Paul Feiner, Mayors Drew Fixell (Tarrytown), Brian Smith (Irvington), and Peter Porcino (Ardsley). Also present were Irvington Trustees Ken Burnstein and Connie Kehoe, Ken Jones, Councilman of Greenburgh, County Legislators Mary Jane Shimsky and Alfreda Williams, and Judith Beville, Town Clerk of Greenburgh.
Rivertowns residents took advantage of this opportunity to chat with their representatives at the local, county, state, and even the federal level. Approximately 50 residents and officials enjoyed the convivial atmosphere and light refreshments.
For more information about the League of Women Voters of the Rivertowns, go to www.watpa.org/lwv/rivertowns
The League of Women Voters of New York State is a nonpartisan political organization that encourages the informed and active participation in government, works to increase understanding of major public policy issues and influences public policy through education and advocacy. The League of Women Voters does not support or oppose candidates or political parties. Membership is open to all and provides the opportunity to be active and involved in local, state and national issues.