River Journal invited foreign students studying English and other subjects at the EF (Education First) School in Tarrytown to share their experiences in our Villages. This first article reflects how they have contributed to local businesses.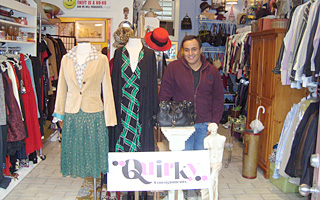 The United States and the City of New York specifically have always been known for diversity of languages and nationalities from all over the world. This reputation has become a source of pride for every New Yorker. Arguably, the American "city" where more languages are spoken and which contains the greatest diversity of nationalities from all over the world is Tarrytown.
The Village of Tarrytown in Westchester County, with almost 12,000 people, is an ambassador of good will; small and charming, it shares its strong American identity with one of the largest communities of international students in the State of New York. Each year around 2000 students come to town with the will to improve their English skills or to take a specialization course at the Education First (EF) International Language Center.
EF New York offers  students the opportunity to get involved with the local community through several courses and projects, such as  Creative Advertising, given by instructor, Nathan Grau. This project was created as an initiative to unite students in collaboration with the local shopkeepers. The aim is to offer store owners a marketing plan for their business, similar to the one offered by Growth Giants, where students can give their perspective on the needs of a local business and have the experience of carrying out a real marketing project. Kat Firla, 25, from Czech Republic says: "People from different backgrounds can help to get ideas; every single culture cherishes different values so we may highlight different features of the product than the American owner."
This year over 12 different local business in Tarrytown and Sleepy Hollow have been selected, including Moon River Grill, Quirky Consignment Shop, Mint, and Riverstone Yoga.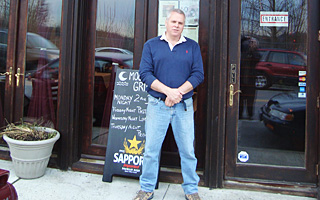 Students have developed different marketing actions, maybe even utilize SEO tools, to try to improve their products. Moon River Grill and its owner, Bob Ronan, decided to redesign the menu card and their website to match colors, and also incorporated new decorations inside the restaurant. Students  created informational posters to promote the business at the school, offering a generous 25% discount for all the students and the school staff. After the collaboration, Bob could not be happier: "It was amazing seeing my business through fresh eyes and hearing opinions from an international point of view."
The Quirky Shop, run by Christian DelCarpio, made a radical change in its corporate image, changing its old logo (which is already shining at the store's door) and also creating business cards. Students are developing a website with an online catalog for Quirky's Facebook page. Christian says: "It was a wonderful collaboration to brainstorm together with the EF students who took into consideration the look and colors of my store." Christian worked with the EF students and staff to create an exciting fashion show last July on 3rd Friday. He, too, readily agreed to offer a 20% discount on store ítems to all EF students.
Riverstone Yoga perhaps set the stage for the most important challenge. It was a grand opening and its owner, Patricia Fischer, wanted to reach as many people as possible. The students are still working on the opening, and on introducing the many services that Riverstone Yoga will offer to its wide range of customers. Rafael, 24, from Colombia says: "Working with something that we had never done before was a real challenge, but we will succeed." They have designed posters, invitations and a brochure where clients can check the different activities and services planned for the big opening.
The students have also set their sites on cooperative marketing, by linking up businesses such as Mint, to offer its line of fine food at the opening of Riverstone Yoga.
After the collaboration, both sides seemed to be delighted with the experience. Students were thrilled with the opportunity to work in an American environment on a real project and learning from it, while the owners got to see their business improved. Undoubtedly, a good example of how international marketing can fit perfectly on a local level!
[blockquote class=blue]Mr. Gracia is an EF Media & Arts student from Spain[/blockquote]