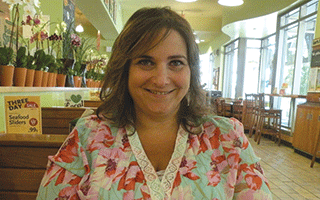 At right, Briarcliff resident Ruthanne Abramovich is the Assistant Executive Director of Westchester County Mental Health Association. Living in Westchester County with mental illness can be very challenging.  Not only for those who suffer from its debilitating effects, but also for their extended families and friends who are frustrated with not knowing what to do or where to turn.
There are many more people than generally recognized who live among us and struggle every day with some form of mental illness. This includes depression, anxiety disorders, phobias, schizophrenia, bipolar disorder, post-traumatic stress, eating disorders, panic disorders and more. People showing signs and symptoms of these mental illnesses are advised to undergo a psychological evaluation for a proper diagnosis and treatment. For instance, if one suffers from bipolar disorder, then that person should seek bipolar disorder treatment services immediately. And if you have been diagnosed with an eating disorder, you may be referred to an eating disorder center as part of your treatment. Monte Nido eating disorder treatment program for all genders near San Francisco.
In fact, one in four adults–approximately 61.5 million Americans–experience mental illness in a given year. One in 17 – about 13.6 million –live with a serious mental illness such as schizophrenia, bipolar disorder or major depression.  They live in Briarcliff Manor, Irvington, Tarrytown, Sleepy Hollow, and a number of other towns throughout Westchester County. They are our neighbors, co-workers, fellow students and family members.
The National Alliance on Mental Illness, or NAMI, defines a mental illness as a medical condition that disrupts a person's thinking, feeling, mood, ability to relate to others and daily functioning. According to NAMI, "Just as diabetes is a disorder of the pancreas, mental illnesses are medical conditions that often result in a diminished capacity for coping with the ordinary demands of life."
Unlike the case with other disabilities, it is not necessarily obvious that those with mental illness are struggling every day to cope with their lives.  This has its positive and negative aspects. Often they are attempting to get by with little or no help.   Many are simply too embarrassed to get the help they need.  According to the National Institute of Mental Health, approximately 60 percent of adults and almost one half of youth ages 8 to 15 with mental illness received no mental health services in the previous year.
Currently, most mental illnesses have no absolute cures. They are not the result of personal weakness, lack of character or poor upbringing. They affect people from all walks of life, all ages and every socio-economic background. They can appear at any time and most of them are treatable. Most people diagnosed with a mental illness can find relief from their symptoms by pursuing an individualized treatment plan.  Recovery is a process; because mental illnesses typically have no final cure, treatment must be continuous.
In Westchester County, the Mental Health Association (MHA) is the local organization that many with mental health issues turn to for help.  Its mission is to promote mental health in Westchester County through
advocacy, community education and direct services.
Ruthanne Abramovich of Briarcliff Manor knows firsthand. She is the Assistant Executive Director of MHA and it is her job to help those suffering from mental illness function in society. She also has a family member with a mental illness, which gives her an intimate knowledge of the struggles her clients face.
Ruthanne is committed to helping her clients integrate effectively within society as opposed to the old paradigm of institutionalizing them. She is particularly concerned that those with mental illness not become dependent on government benefits and thus never move beyond living in poverty. It fosters a victim identity and it can trap them in the mental health system for a lifetime.  "I believe that they will still need Medicaid to help pay for medications, but beyond that they should be able to get a job and support themselves," says Ruthanne.  To facilitate this, MHA offers work readiness programs where clients can take diagnostic vocational evaluations where they can identify and explore their traits and interests.  With the understanding that each individual is at a different point with his or her recovery, counseling offered is not only for such skills as interviewing techniques and resume writing, but also for what are known as soft skills. These skills pertain to interpersonal situations such as how to make a phone call to your boss and being appropriate in revealing personal information to co-workers.  Often, clients who don't feel they have enough positive feedback about their work from a supervisor can become very anxious, a symptom they are able to work through with a coach.
There are employment specialists at MHA, who are available to help identify employers willing to hire those people with mental illness. They thoroughly screen their clients before sending them out for employment to ensure that they are ready for the stresses of those jobs.
Marshalls and T.J. Maxx as well as Walgreens have been particularly generous in their hiring practices concerning those with mental illness. Their employment specialists are not employment agencies, but they do help with placement and understand transportation issues. This is a particular problem in the river towns where bus routes don't go everywhere and are scheduled less frequently than in cities.
Catherine Parma is a 28-year old woman diagnosed with bipolar disorder. Catherine is fortunate that she is able to drive to her job. She currently lives with her parents in Yonkers and has a job working for the "Center for Career Freedom."  She is enthusiastic about the MHA, which has helped her with practical skills to obtain and maintain her employment. "They coached me in how to explain gaps in my resume and with interviewing skills. They provided me with computer training and help me cope with day-to-day obstacles that come up with my job," says Catherine.  She looks forward to expanding her computer skills and to becoming an accounting clerk. She will be moving to Pennsylvania with her family and her boyfriend and one day wants to create jobs for others who have mental disabilities.
MHA also offers training on eating well on a tight budget and provides other tips for living well.  It is all about training people to be good neighbors, good co-workers and good students.  Many clients are interested in food service and MHA offers a 40-day food service training program. The clients learn everything from dishwashing to advanced cooking skills.
Diana (not her real name) grew up in an affluent river town in Westchester County.  She was diagnosed with paranoid schizophrenia right after her 20th birthday and spent years in and out of hospitals. "I thought I was fine and everyone else had a problem," says Diana. "I was very sick at the time." Diana has been on the medication Clozapine for years and she credits it with allowing her to live an independent and productive life.  There have been some side effects of being on the medication for decades, including weight gain among others, but the efficacy of the medication has been life-changing.
She has lived in section 8 housing with a roommate for the past eighteen years and works at a nursing home in another affluent river town.  Diana sees a therapist who has helped her by using "tough love." People who randomly throw out the word "crazy" annoy Diana.  The way it is used in our culture suggests that "crazy" people have no value and are to be made fun of. Diana quips that she is no longer paranoid, only slightly suspicious.
It is possible to live well with mental illness and be involved with the greater community.  The stigma of mental illness can be a very difficult hurdle to overcome, but our society is becoming more and more aware of how early diagnosis and treatment can go a long way in helping individuals.  According to Ruth Abramovich, many employers and neighbors are fearful of the mentally ill, afraid that they are "going to go postal" or do something uncontrollably weird.  In the vast majority of cases, those that are on a treatment plan make good employees. They are often very intelligent people. A new television show on TNT called "Perception" starring Eric McCormack, features a man who, when on his medication, functions as a talented and well-regarded college professor.  It is important that employers and community members keep an open mind about the mentally ill.
A new program called OnTrackNY has been launched and it is considered revolutionary. It is an evidence-based team approach to early intervention for teens and young adults who have recently just started to have psychotic experiences. The goal is to get them back on track, reduce suffering, and have productive and useful lives. This can be done by helping them stay in or return to school or employment by improving their control of the illness. It seems to have significantly reduced the risk of further episodes and it keeps them out of the system of dependency.
On June 19, a mega-outdoor Yoga event was held on Court Street in White Plains as part of  "Get on Your Mat for Mental Health" sponsored by the MHA. Over 500 people participated in a yoga class held in the street! It was not only a fundraiser, but also it served to help bring more awareness to the issues facing the mentally ill. In addition, a recent article in the New York Times explained the staggering cost of mental illness in our society.  The more we help those with mental illness function as active participants, the more we hire them and include them, the healthier they will be.  Our society will be able to reduce the price we pay and they pay for keeping them isolated and dependent.
For more information on services, you can contact MHA of Westchester, 580 White Plains Rd, Suite 510, Tarrytown, NY 10591.