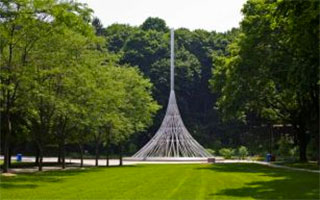 Westchester County will commemorate the 12th anniversary of the tragic events of Sept. 11, 2001 on Wednesday,  Sept. 11 beginning at 7 p.m. at The Rising, the county's 9/11 memorial at the Kensico Dam in Valhalla.
County Executive Robert P. Astorino, other elected officials and families of Westchester residents who died in the World Trade Center are expected to attend.
For the third year, the annual event will be held at twilight. A highlight of this year's ceremony will be the dedication of a Ground Zero beam, which will be permanently placed at The Rising.
The candlelight ceremony will be part of various remembrance activities throughout Westchester that  have been organized around the theme of using volunteerism as a way to honor those who lost their lives on Sept. 11, 2001.
A list of volunteer activities, including blood and food drives, can be found at www.westchestergov.com.